Decorating Advice From 1948 That Still Totally Applies Today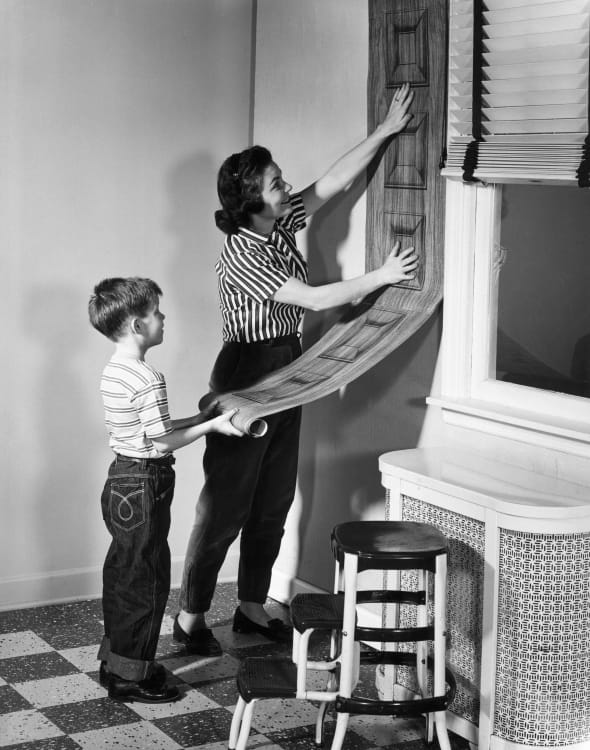 (Image credit: Lambert/Getty Images)
The good news? It's 2017 and matching your wallpaper to your bedspread isn't a requirement for having friends! Bad news: the Internet is a very big place, chock full of contradicting opinions that often make us long for the weirdly strict design rules of yesteryear. When I found an original copy of The American Woman's Encyclopedia of Home Decorating (1948), I was intrigued to see just how author Helen Koues's advice matched up with today's interior designers nearly 70 years later. I'm happy to report the following design tips still ring true today...
Disclaimer: The American Woman's Encyclopedia of Home Decorating is not at all a comprehensive guide that is 100% valid today (turns out men can be decorators, too!)…but, it does contain a few solid nuggets of advice that have stood the test of time, such as:
"Color is Vital"
Deciding on a manageable color palette (and sticking to it) has been a tried and true way to "tie a room together" since the dawn of time (or at least 1948). Here's what Koues and designer Emily Henderson had to say about keeping a consistent color palette and using a mix of neutrals and accent colors.
(Image credit: Book Production Industries, Inc.)
Helen Koues on color:
"Related color is important."
"In neutral colors, walls act as the foil for bright patterned chintz and colorful upholstery."
"It is safest to keep to one or two colors rather than branching out into several colors."
"Color will even tie together unrelated pieces if you have to use them."
"You can mix however many styles you want, mid-century-country-hollywood-regency-industrial-traditional – ALL OF THEM together as long as you have a consistent color palette peppered evenly throughout the space."
"Choose a few colors that you've always loved, add some neutrals, throw in some accent colors, and then shop and style ONLY within those colors."
"Furnish with Secondhand Pieces"
While finishes and hardware style trends come and go, finding a way to incorporate secondhand pieces into your home is a classic design trick that's been around forever (or at least the last 69 years).
(Image credit: Book Production Industries, Inc.)
Helen Koues on secondhand furniture:
"Furnish with secondhand pieces. Frequently this is inexpensive and gives the most attractive results."
"Hardware may be ugly and the finish gone. Remove both and paint or refinish to your taste."
Homepolish designer Megan Hopp on secondhand furniture:
"Ever hear your parents say 'They just don't make things like they used to.' Well, guess what? For once, your parents are right! Secondhand furniture is a great asset when looking for quality and cost-conscious pieces to fill your home."
"Small Things Count"
In the following pizza analogy (sorry, it's lunch time as I write this), functionality is like the dough on which we build the pizza and meaningful vignettes are the toppings. While the dough is the most essential component of a pizza, the toppings are arguably the best part and what gives it its unique je ne sais quoi. Moreover, each person's topping choices convey a bit about his or her personality (and whether or not you think they're disgusting and never want to share pizza with them again — aka whoever chooses pineapple).
(Image credit: Book Production Industries, Inc.)
Helen Koues on accessorizing:
"[...] accessories give us a great chance to express individuality: to have about us pictures, ornaments, or other articles that lift our spirits, and for some reason, known or unknown to ourselves, give us an inner pleasure or satisfaction." *Note the grouping of three candlesticks on the above floating shelf
Designer Nate Berkus on accessorizing:
"Is not just about the fancy dishes we never use its about what we really have out on every surface." *(His elegantly styled project above, from Architectural Digest, is a great example of livable accessorizing.)
Designer Coco Kelly on accessorizing:
"Always three elements together in each space. It's a great general 'rule' to keep in mind when styling."
"Balance is Key"
Choosing pieces that match the scale of your room is important for maintaining balance. Once the most substantial foundational pieces are chosen, mixing in both heavy and light pieces in a variety of styles and shapes gives the room much needed contrast and also contributes to a well-balanced aesthetic. Designer Amber Lewis's airy and peaceful rooms are a great modern example of creating a well-balanced space, regardless of size.
(Image credit: Book Production Industries, Inc.)
Koues on balance and scale:
"Scale simply means having furniture of the right size for the room in which it is placed. We all have seen rooms which seemed all sofa and chairs for a big room where delicate chairs or a spindly table left great expanses."
"It is equally important to choose chairs to fit places; so very heavy upholstered pieces with lighter, open-arm chairs which are easily moved."
"Think about putting different pieces together. If your sofa leans mid-century with skinny dowel legs, opt for a chunkier coffee table rather than a minimalist one. You don't want all your pieces to seem like they're floating in space or too chunky."
"Don't Neglect Your Corners"
Some of the best time-tested advice loves to remind us not to overlook what's in our periphery ("clean behind your ears", "mind the gap", "look both ways", etc.). With our eyes constantly pointing toward the nearest digital screen, these helpful reminders are perhaps more relevant now than ever. In relation to home decorating, it's easy to overlook the untrodden corners of a room when you're busy picking out large staples like sofas and beds to fill the larger expanses. Cozy corner reading nooks are always in style and adding lighting to the dark corners of your space can even draw the eye outward to make a room appear larger.
(Image credit: Book Production Industries, Inc.)
Koues on corners:
"Light in corners brings out the size of a room. Therefore, a table lamp near a window and a good seating arrangement give light both by day and by night, and make a livable group."
Laurel & Wolf designer Casey Gerber on corners:
"Corners often go neglected, but they are valuable real estate when it comes to a smaller space."
"If you have a darker room, a corner lamp is definitely the way to go. It will make the room appear larger too!"
Of course, as with most rules, the above is not a hard-and-fast list of absolutes that should be applied to all spaces at all times. However, if you, too, suffer from decision fatigue, I hope these time-tested tips serve as a jumping-off point for designing your home with confidence.
Apartment Therapy supports our readers with carefully chosen product recommendations to improve life at home. You support us through our independently chosen links, many of which earn us a commission.