My Favorite-Smelling Laundry Detergent Is Finally Back in Stock — and I Bought Two More Bottles
We
independently
select these products—if you buy from one of our links, we may earn a commission. All prices were accurate at the time of publishing.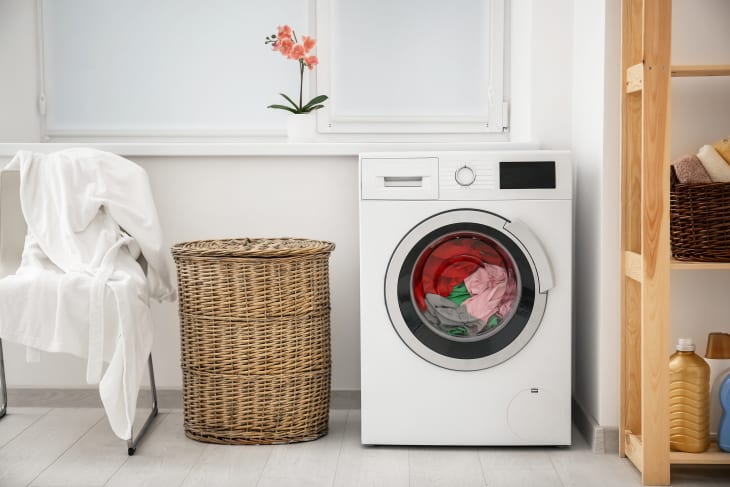 Anyone who knows me knows that I love — nay, am slightly obsessed with — good fragrances. I light candles daily (even in the summer), spritz a room spray on my pillows every morning, and keep a Diptyque-perfumed ceramic at the bottom of my laundry basket. Which, speaking of the latter, I'm even fixated on wearing nicely-scented clothing, especially since my apartment lacks in-building laundry. I have to use a local laundromat or wash-and-fold service, and sadly my clean clothes just never feel as fresh as they would coming out of a personal washer and dryer (if you know, you know).
To that end, I'd been wanting to branch out from my go-to Tide detergent, and luckily Los Angeles-based fragrance company DedCool came to my rescue. Back in May, they teamed up with beloved beauty brand OUAI on a limited-edition, floral-scented laundry detergent. I got to try a sample before the launch, and it's singlehandedly the greatest thing to happen to my laundry routine. In fact, it was so popular that the initial batch sold out, but it's now officially back in stock and I've already ordered two more bottles.
What Is the DedCool x OUAI Melrose Place Dedtergent?
DedCool and OUAI's detergent (or "dedtergent," as the brands call it) is a non-toxic, vegan, and genderless laundry essential. Designed to "drench your life in a signature scent," it touts a refreshing rose fragrance, mixed with notes of white musk and bergamot. The Melrose Place detergent comes in a compact, recyclable 32-ounce aluminum container, with enough to last up to 60 machine or hand washes — and the packaging itself even details specific suggestions on how much to use per laundry load, based on size. Although, it's encouraged to add more if you want a stronger aroma. Best of all, it's gentle on delicates and sensitive skin, yet tough enough to thoroughly clean clothes, sheets, towels, and more.
Why I Love the DedCool x OUAI Melrose Place Dedtergent
First and foremost, I can't rave about the Melrose Place scent enough — I've never experienced better-smelling laundry detergent that subtly lingers on my clothes, even if they've been sitting in my closet for weeks. It makes me want to wash absolutely everything I own, from my bedding to my bath mat, just so it can all pick up the delicious fragrance. I now even have two packs of the Melrose Place drying sheets for the full floral effect, too (you can bundle these with the detergent for $40, FYI).
Fellow Apartment Therapy editor Sarah also owns the Melrose Place detergent, and as a longstanding OUAI perfume fan, it's no surprise she fell in love with this DedCool crossover, too. "Not only did I love it, but so did friends and family," Vazquez adds. "After I started using this detergent, I had tons of friends and family asking me what perfume I was wearing because I smelled so good! You should have seen their faces when I told them it was my detergent. Needless to say, I'll be restocking anytime I can get my hands on it!"
Trust me, if you've ever wanted your clothes and linens to smell like a bed of roses and feel ultra clean, you'll never go back to any other generic detergent after trying the DedCool x OUAI Melrose Place Dedtergent. It makes me excited for laundry day, so much so that I'm begging both brands to turn this collab into a permanent fixture. And for $35, a little really goes a long way here. I've been using the same detergent bottle since April, but I'm also stockpiling extras in my coat closet in case this sells out again — and I'd suggest you do the same if you want to experience this freshly scented laundry MVP!