The 1970s Layout Feature That's Making a Huge Comeback
We independently select these products—if you buy from one of our links, we may earn a commission. All prices were accurate at the time of publishing.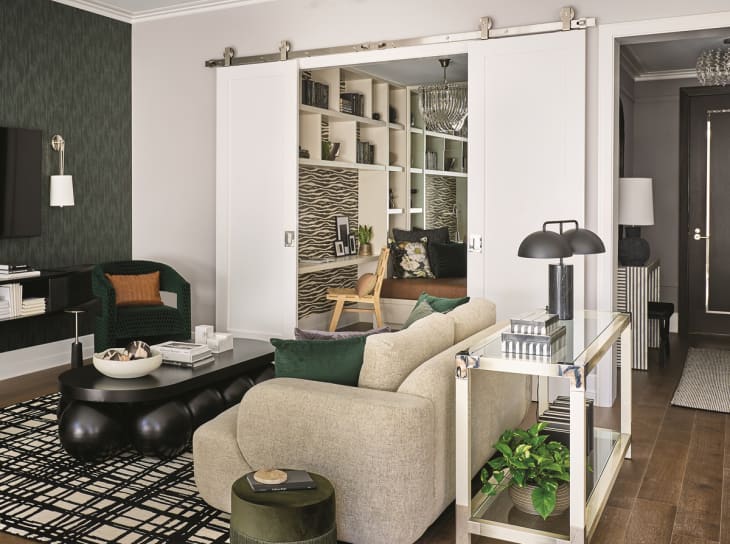 Some of my earliest memories take place at my grandparents' home. The house, built between 1890 and 1900, was their residence for decades — my family moved in when my mother was just 10 years old. It had a few memorable features: a sprawling vegetable garden, a storm cellar, and apparently a ghost (that's a story for another article). But the room I remember most vividly is the den.
With a sliding door, wood-paneled walls, and bright-blue shag carpet, the den was nestled between the living and dining rooms. When asked what her family even did with the den, my mom said, "It was just there." In a way, that's exactly the point of a den: the flexibility to serve literally any purpose. And thanks to the den's informal, multipurpose nature, these retro spaces are making a major comeback in modern homes. 
According to Mary Cook, founder and president of the interior architecture and design firm Mary Cook Associates, "Den is an old English word meaning shelter or resting place of a wild animal. Today, it's defined as a small room in a house where people can pursue activities in private." 
Cook explains that the mid-century use was heavily focused on the family patriarch, as a place for father figures to unwind and maintain the home's business. "Once the need for paper storage went away, dens could better take on other features like guest sleeping, a fireplace, or a bar," Cook says.
After dens phased out of home layouts for some time, the pandemic's lockdown period reshaped the way homeowners and renters alike approach sharing their dwellings. "Initially, the novelty was enjoyable, but as time passed, the limitations of our homes became evident," Cook says. "Homes were not designed for all family members to be together at all times." 
Other developers have noticed recent shifts in the use of such multipurpose den spaces. "Many are still working remotely part-time or full-time and seeking this space," says Jeff Benach, principal of Chicago-based Lexington Homes. "Also, people were spending more time at home during COVID-19 and many have maintained this trend, thus, they need a space in which to create a yoga/exercise room, reading room, or craft room." As people have created new ways of life, they've forced their homes to adapt.
Jill Jewett, president and co-owner of Finger Companies, shares, "Today's lifestyles ask a lot of the places where we live — especially for renters. We've found that this flexible feature is more in-demand than ever, as it provides just the right amount of extra space — especially for residents who find they can avoid sizing up to the next level of bedrooms when a den can fulfill their needs." 
Different generations gravitate to dens for unique uses. Liz Brooks, executive vice president of marketing for Belgravia Group, which developed Portico in Scottsdale and Triangle Square in Chicago, says, "Our empty-nester buyers naturally gravitate toward our [condominium] floor plans with dens, as they really appreciate having the same extra space they had in their single-family homes." In addition, younger buyers and renters appreciate how dens evolve with the family, starting as reading nooks or home gyms, eventually accommodating playrooms or modest nurseries for families not yet ready to make the leap to a larger space. 

One unexpected but ingenious use that Brooks is seeing more frequently is the den-as-studio.   

"We've seen several real estate brokers reference these spaces as 'Zoom Rooms' in MLS listings, as many entrepreneurial personalities are creating a following with regular podcasts and are looking for flex spaces that can serve as a 'studio,'" Brooks says. (Please, no one share this idea with my podcast-obsessed husband.)

While it pales in comparison to my grandparents' authentically retro den, my household's den currently serves as my home office. Eventually, it will likely transition to a reading nook with a daybed for guests, or a playroom for future kiddos. But as my family and lifestyle unfolds, who knows — maybe I'll come up with a completely new use for the incredible, adaptable den!