Beadboard Vs. Wainscoting: Do You Know the Difference?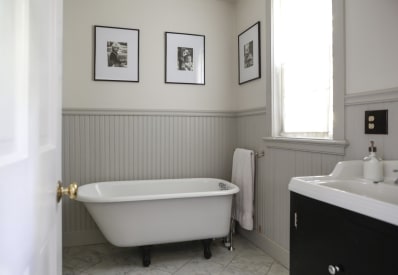 Beadboard adds visual interest to any remotely blah wall. It is relatively durable, an inexpensive alternative to tile, can be painted any color, and installed at any height. While you often see it in traditional or rustic settings, beadboard doesn't have to impart a cutesy country feel; it can be positively sleek and cool.
Wainscoting vs. Beadboard
Many people use wainscoting and beadboard interchangeably, so the terms can be confusing. Here's the difference:
Wainscoting is a broader term referring to decorative paneling used for centuries as: a) a wall accent; b) insulation and; c) to prevent (and cover up) damage to walls. It typically is made of wood, and covers the lower three or four feet of an interior wall. The two key elements of any kind of wainscoting are the panel and the frame. This frame comprises four pieces: the top and bottom rails and the two side pieces (aka the stiles).
The type of panel used determines the name of the wainscoting and different styles include raised panel wainscoting, flat panel wainscoting, board and batten, and finally....beadboard.
What is Beadboard?
Beadboard is a row of narrow wood planks lined up vertically on the wall. In between each wood plank is a little indentation or ridge—also known as a "bead". The vertical boards are capped off by strips of horizontal molding, which finish off the seams.
Installing Beadboard
These days most modern beadboard comes in long, monolithic sheets that imitate the look of narrow vertical planks and traditional tongue and groove paneling. You can install these in larger sections, with some glue and nails, instead of placing each individual board piece by piece. And it's no longer necessarily wood: beadboard often comes in all kinds of more inexpensive and/or durable materials, from MDF to vinyl. It's an easy DIY project that gives the illusion of fine carpentry.
Beadboard Bathrooms
Beadboard can be used anywhere in the house —on the ceiling, as a kitchen backsplash — but it's most often found in bathrooms.
Although most often white, painted beadboard is easy and affordable way to add color, like this navy bathroom from this 1890s Michigan House. The crisp blue makes the beadboard feel more modern, and less country.
The ledge shelf from Kristen and Michelle's amazing, soothing bathroom adds a little extra functional storage the space on top of traditional beadboard. Just hang it high enough so that the shelf doesn't hit your head while you're sitting there doing your business.
Want more beadboard ideas?
Apartment Therapy supports our readers with carefully chosen product recommendations to improve life at home. You support us through our independently chosen links, many of which earn us a commission.