4 Design Trends That Could Tank Your Home's Value, According to an HGTV Host
We independently select these products—if you buy from one of our links, we may earn a commission. All prices were accurate at the time of publishing.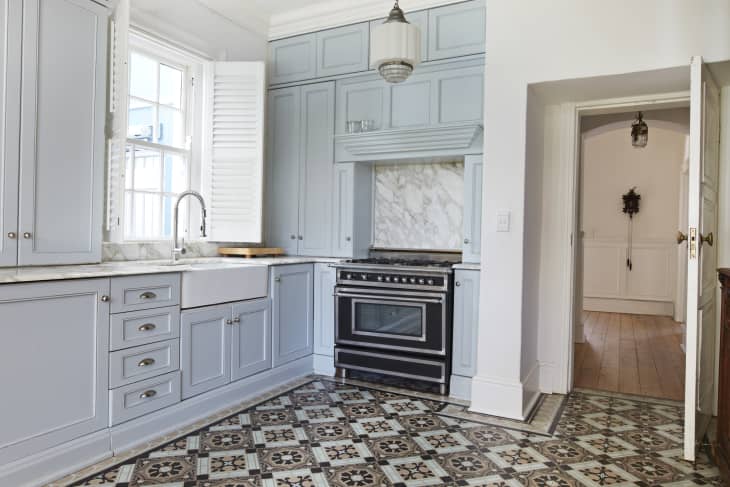 Your home is more than just a home. As a homeowner, your home can be one of your most significant assets. While it may be nice to add your own style and personal touches — shag carpeting, a built-in bar, some fun wallpaper — there are certain design trends that could be terrible for home resale value.
Design trends can fall out of fashion just as quickly as they started. Here are some design trends that might make your home sell for less, according to an HGTV host. 
While a DIY approach to your home decor may be unique — not to mention budget-friendly — sometimes it's better to stick with professional, classic finishes. 
"I think if you liked the farmhouse direction, but you didn't want to do overkill to where it hurts a home value, I would stick to professional finishes that are in the rustic category," she says. 
If you want to do something different, Millheiser advises sticking with neutral finishes and instead be bold with things like art and furniture. If you like the farmhouse style, Millheiser recommends sticking with inoffensive trends like farmhouse sinks and subway tiles. "Avoid doing too much in terms of like, putting your old fence on the wall and stuff like that," she adds.
There are so many places to use tile — floors, walls, ceilings, countertops — but sometimes it's a little much.
"What I've noticed right now is you're seeing a lot of wainscoting in the bathroom, which is great, and tile on the floor, and wood tile flooring. But now you're starting to see people extending their backsplashes to be a tile accent wall in the house," says Millheiser. "It's just starting to get to be too much tile."
According to Millheiser, the problem isn't the change in textures, it's that tile can be cold. "I tell people to pick a couple of places to have tile, but outside of that, everything should just be texture-based," she explains.
Gray is a nice neutral color to work with, and it's become very popular in home design as of late. However, if you're trying to sell your home, Millheiser suggests holding back on all-out gray. 
Her reason is that too much gray doesn't photograph well, which is important if you're trying to sell your home. She suggests contrasting colors and textures like shades of white, black, or even neutrals such as cream to break up a monotonous gray color scheme. 
The interior of your home can be modern, traditional, rustic, industrial, artistic, or something else entirely. While you may like several (or all) of these styles, when it comes to home design, consistency is key. 
"Don't go all-in on a style in one room if you're not intending to do that in the rest of them, or at least have nods to that style. I told my clients if they want a modern kitchen, the rest of the house needs to build to it," says Millheiser. "Start telling that story at the door."