Designer to DIY: This Potentially Free Idea for Your Powder Room Is Pro-Approved
We independently select these products—if you buy from one of our links, we may earn a commission. All prices were accurate at the time of publishing.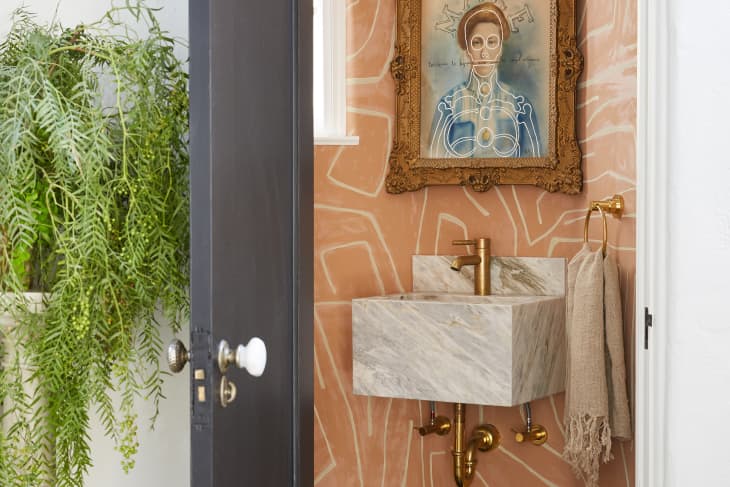 When principal designer Marie Trohman and her business partner Ashley Drost, a fellow principal at Proem Studio, started renovating the backyard of Trohman's Los Angeles home, it was only a matter of time before the changes crept indoors. 
Follow Topics for more like this
Follow for more stories like this
"We put in a pool and guest house, and part of that process included opening up the main house to the backyard," Trohman says. "So of course, as soon as the interior started to get touched, the whole place got a refresh." 
By the time they landed in the powder room, she sought to have a little fun. "The room doesn't get a lot of light and we aren't dramatic in our tastes, so I wanted to do something tonal without being too precious or expected," she notes. "In daily life, the room is soft and ties into the warm color story of the house."
This space's compact square footage has been a notorious playground for design risks, and Trohman took that to heart in the spot above the vanity. Since the sink sits at an angle, a mirror would have to as well. Well, at least in theory. Trohman decided to solve the problem a little differently instead. And her solution can be easily replicated in your home, too.
Read on to see how this designer look can be an easy DIY — and potentially free, depending on your current art collection. 
What Was Done: Trohman decided to hang artwork over the sink, instead of a mirror, in what she thinks was a happy accident. "Since that wall is small and on an angle, a mirror would have just reflected a door jamb and probably the coat closet beyond that," Trohman says. "I'm honestly not 100 percent sure how we chose the painting, but if I had to guess, it's most likely that I set it on the sink preparing to hang it above the toilet when I realized I wanted to play with it where it was leaning. I move around art a lot, so there's at least one or two leaning art pieces around the house at any given time. And for better or worse, I'm not a person who needs to check my face every time I use the bathroom, so this wasn't a big deal."
How It Works: For those who visit and may want to check that no crumbs or smudges are a part of their ensemble, Trohman put a mirror on a nearby wall. "There is a mirror option outside the powder room in the entry," she notes. "I'm really not a big fan of mirrors all around a house, I'd rather hang up art. We have six mirrors in the whole house and three were built in by previous owners. Even the mirror in the entry is really just functional art."
Why You Should Try It: Trohman recommends trying this out in your home because it feels like an innocent way to bend the rules — and any art piece, from a small or large budget, would fit right in. In fact, you could follow her lead and move art you already own into this space! "The only reason I think this painting is successful here is because it doesn't feel forced. The room wasn't designed for a painting to go there and I didn't purchase this painting with the intent of having fun with the portraiture aspect," she says. "I think if you're considering putting art above the sink it's got to feel easy. I'm serious about my work, but definitely not about myself, so any moment that makes me smirk is a win."