14 Unexpected Things You Can Clean with a Dishwasher Tablet
We
independently
select these products—if you buy from one of our links, we may earn a commission. All prices were accurate at the time of publishing.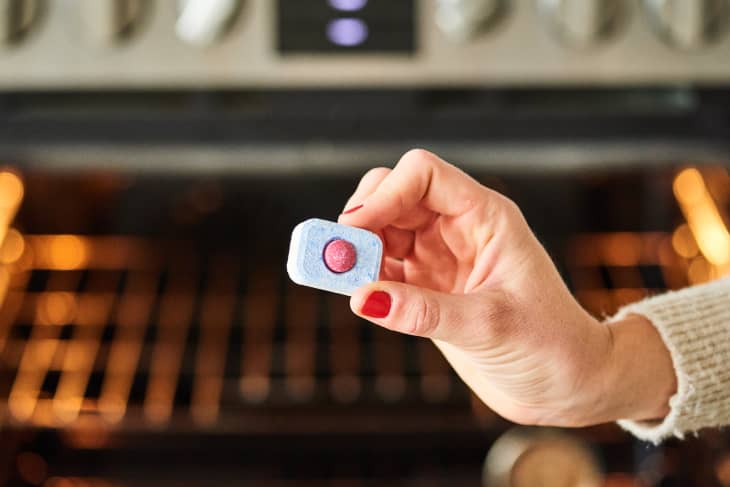 Dishwasher tablets are having a moment, and not just because they're the easiest way to dispense dishwashing powder or solution into your dishwasher. Turns out that their grease-fighting, hard water-busting cleaning properties are a powerful way to tackle other big messes.
From the bathroom to the kitchen, and all over the home, here's how you can harness the power of dishwasher tablets to make your place cleaner.
If you struggle with stubborn rings from hard water in your toilet bowl, dishwasher tablets might be the solution you've been looking for. While you might not get big results from merely dropping a tablet in the bowl and letting it dissolve, using a dishwasher tablet to manually scrub the ring (wear gloves!) erases it. 
2. Get your oven door clear again.
Using a dishwasher tablet to clean your oven door makes this onerous task a lot easier. Dip a tablet in water and then hold it so that you can scrape cooked-on grease with its sharp edge. This not only cuts through the grease, but also helps loosen it at the same time. 
3. Clean scorched cookware.
You can also clean dirty cookware with a dishwasher tablet. Cooked-on grease is the worst to clean, and it often happens inside pots, pans, and casserole dishes. Fill any affected container with warm water and drop in a dishwasher tablet to soften the mess and cut down on the time you spend scrubbing.
Mugs that are technically clean but have coffee or tea stains inside them aren't very appealing. Use dishwasher tablets to make yours look clean again. Fill them with warm water and then dissolve a dishwasher tablet, or even just a piece of one, in any mugs that need some deeper cleaning. 
5. Make vases and carafes sparkle again. 
Vases and glass carafes are notoriously hard to clean and often end up cloudy from hard water stains. Make them sparkle again with a dishwasher tablet solution that dissolves hard water stains. Again, fill the containers with warm water and a bit of a dishwasher tablet, let it dissolve, and leave the solution for about an hour. Then, rinse clean. 
6. Refresh coffee carafes.
One reader reached out and shared that they use dishwasher tablets to clean stainless steel coffee carafes. "Put boiling water in the carafe and fill it to top," they said. "Add a dishwasher pod or tablet and wait 15 minutes, then rinse! It's so gratifying to see such a shiny, clean interior!"
7. Clean the inside of your fridge.
Cleaning the inside of your fridge with a dishwasher tablet solution streamlines the whole task. Sticky messes melt with ease and you'll be putting those perishables back where they go in no time. 
If you're in a pinch and don't have any powdered cleanser to clean out your sink, a dishwasher tablet works well too. Wear gloves and use them to scrub the dingy, water-stained interior, or make a cleaning solution with a dissolved tablet and scrub with a scouring pad. Either method will leave you with a shiny sink.
Clean baking sheets with baked-on food residue by putting your sheet in the sink (make sure it lays flat), placing a dishwasher tablet in the center, and carefully pouring hot water over it to help loosen the gunk and grease. Use oven mitts to protect yourself, and rinse and scrub with a soapy brush as needed. You could also place your sheet on the counter — just be cautious as you pour the hot water.
10. Deep-clean garbage cans.
Garbage cans are subject to the same kinds of sticky stains that refrigerators get, but worse. Make deep cleaning your trash cans easier by filling them with water, dissolving a dishwasher tablet inside, and then allowing the surface to soak. Scrubbing and rinsing will be much easier after this dishwasher tablet bath. 
Can you clean your couch with a dishwasher tablet? Yes! Dissolve the tablet in warm water, soak a microfiber rag in the water, squeeze out excess water, and then wrap the rag around the lid of a pan. Use this to wipe the surface of your couch. Although users have had mixed results, you'll end up with a cleaner couch than you had before you started — even if it's not pristine. 
12. Deep-clean your microwave.
Cleaning the microwave with a dishwasher tablet solution is one of my favorite tricks because it's the first thing (other than dishes!) that I used a dishwasher tablet on. Clean crumbs out of the unit and take out the turntable. Then wipe down with a rag dipped in the solution, which melts away sticky residue and leaves a squeaky clean interior. 
13. Clean your dirty oven racks.
3N Family Fun demonstrates how to clean oven racks by soaking them with dishwasher tablets. Line a bathtub with a towel to prevent scratches, fill with hot water, and drop in four to five tablets. Allow the racks to soak before scrubbing. 
14. Deep-clean the litter box.
Much like deep-cleaning garbage cans, litter boxes can also be deep-cleaned with dishwasher tablets. Empty out the litter, fill it with hot water, and toss in a couple of dishwasher tablets. Let the litter box soak and then dump the water out, scrub, and rinse.