This TikToker Created the Sparkliest DIY from a Damaged Monstera Leaf
We
independently
select these products—if you buy from one of our links, we may earn a commission. All prices were accurate at the time of publishing.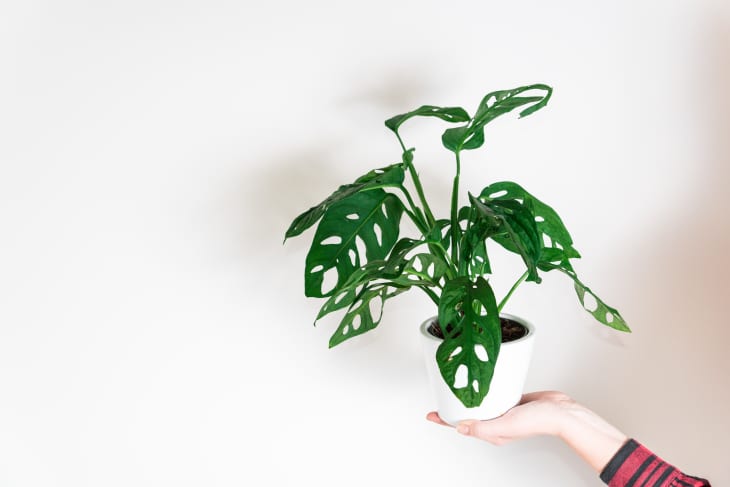 If you're a dedicated plant parent, it can be devastating to lose a plant to root rot, a curious cat with mischievous tendencies, or pesky fungus gnats. Although it might be possible to save the entire plant in some situations, losing a couple of leaves can still hurt. However, a woman on TikTok did a creative DIY project after a leaf from her Monstera deliciosa was accidentally broken, and it might inspire you to add some new art to your wall.
While attempting to measure the wall behind her plant, Mads (@_m.a.d.s.__) unfortunately severed a large leaf from her Monstera deliciosa. If you have a tall, healthy plant this length, you'll understand that it is a heartbreaking scenario to lose a leaf like that. Luckily, she had a creative vision for a DIY project to repurpose the leaf, and the result is so groovy.
To start the project, she used the leaf to measure its length on a piece of cardboard and covered the entire thing in foil. Mads continued the DIY by adding disco tiles to the entire surface and used the remaining cardboard to provide a sturdy structure for mounting the leaf. Before she finished the leaf, she placed disco tiles on the sides of the leaves to clean up the appearance. She was on the lookout for something to hang on the wall behind her plant and this eye-catching leaf ended up being a great idea.
Whether you've got extra disco tiles laying around from a DIY project or happened to accidentally break a leaf from a treasured houseplant, this creative task is fairly low-effort and can bring a bright (and super reflective) presence to your space. You've got to admit — the trend of disco-fying everything might be a little overdone, but this is worth the time and effort.