This DIY Trellis Is the Perfect Way to Add Wonderland Whimsy to Even the Tiniest Outdoor Space
We
independently
select these products—if you buy from one of our links, we may earn a commission. All prices were accurate at the time of publishing.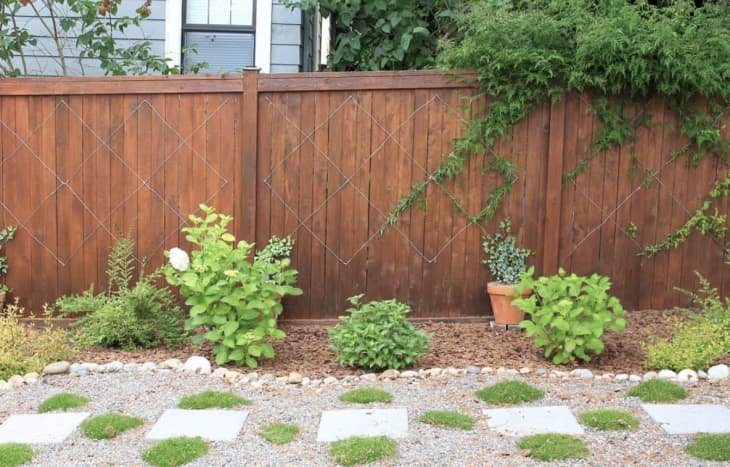 Lush greenery brings a welcoming, earthy feel to your home — both inside and out. And if you love seeing beautiful, trailing plants climbing up the side of brick houses, you're in luck. One of the biggest trends in interior design is plants, and Marie came up with the perfect DIY hack for all the plant lovers out there.
In a recent house tour, Marie showed off her 1920s Tudor in Seattle, Washington, complete with an espalier trellis that she DIYed for $45. Espalier is a kind of ornamental shrub or vine-y plant whose branches are trained to grow flat against a wall. This growth is typically supported on a lattice or a framework of stakes or wires.
"There are homes in my neighborhood that have espaliered fruit trees along their fences and they so look beautiful," Marie says. This wasn't common in gardens where she grew up in the LA area, so she was super excited to incorporate this style into her home. During Marie's research, she gravitated toward the Belgian lattice design.
The first step in transforming your fence into a beautiful lush backdrop is to gather your materials. For this project, Marie used a pair of side-cutting pliers, 13/16-inch screw eye hooks, and some galvanized steel. If your fence wood is strong, you may also need a drill to make holes for the hooks, versus being able to screw them in yourself.
Once you have your materials, insert a hook into the fence and thread the wire through the hook. Cut the wire segment, then wrap the wire around itself to make sure it's sturdy and secure. Continue threading, cutting, and wrapping until your pattern is complete. "The silver wire definitely blends into weather-worn wood more," Marie says. This is nice to know, considering it will take some time for vines to start climbing.
The entire process took about three hours and cost just $10. Marie and her husband already had pliers in their toolbox, but if you don't have any, you can purchase a pair from Home Depot. The hooks and wire cost just $5 each, making this project simple and super affordable.
Still, it's a project with plenty of longevity: "It's going on two years with my trellis, and it's holding up well," she says.