I've Renovated 4 Houses—Here Are the 5 Things I'll Absolutely Never DIY Again
We
independently
select these products—if you buy from one of our links, we may earn a commission. All prices were accurate at the time of publishing.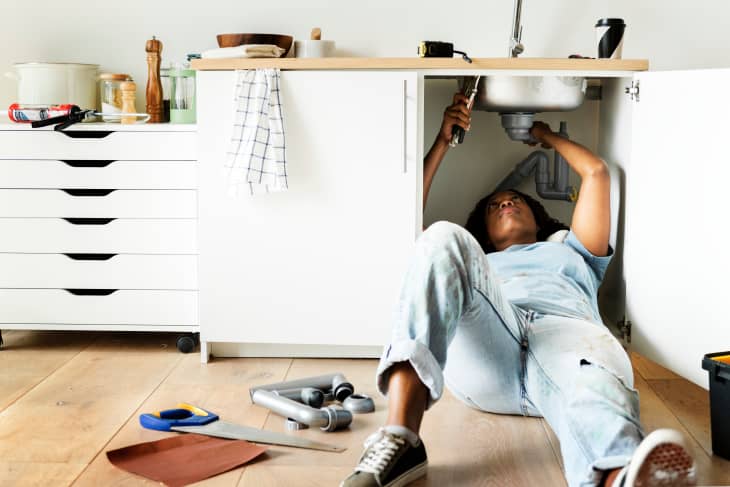 "Are you guys doing the work yourselves?"
It's the first question people ask when they hear I'm fixing up a crumbling Victorian. And there's a sense that I should feel a little sheepish when I answer no. You get so much more cred when you DIY, right? I've certainly done it on other projects. But with four properties (totaling eight living spaces) under my renovation belt, I've learned when it's best to hire out the work. And now, for me, that's almost all the time.
Still though, I get little pangs of envy when I see Instagram posts of rehabbers hard at work on their labors of love. They're rolling up their sleeves, getting dirty, and loving it. Meanwhile my best friend/business partner and I are more, shall we say, conductors of the production that is reviving a derelict mansion.
When these pangs hit, I remind myself that I spent many months working long, cold days on every aspect of demo and renovation on a three-flat house in Detroit. And although the pride that comes from using my own hands to physically transform a space is a heady thing, the repercussions were nearly ruinous. Besides jacking my back more than once, I ended up at rounds of doctors trying to undo the damage to my hands from wielding sledgehammer, drill, hammer, crowbar, sander, paintbrush, and more. These are the hands I make my living with (writing stories like this!) so it's just not smart to destroy them. 
I've still persisted, not always wisely, along with my husband on work on our Victorian, and we've learned some painful lessons there, as well. By the time I bought my first flip, I learned to outsource nearly all the work, and on my latest project, I'm one hundred percent confining my role to co-general contractor. And I refuse to feel bad for not DIYing it. Honestly, there are plenty of times it doesn't even make sense, whether from a cost or safety standpoint. If I'm ever tempted to jump back on the DIY train, here are the projects I would never do again. 
Yes, I've dabbled, following my dad's rule of 'tape it like it's free' for very minor electrical projects. But it only takes one shriek and crash followed by a trip to the ER to swear off DIY electrical.
It didn't seem like it should be a big deal for my quite handy husband to replace a light fixture in our 1887 home. But even though he flipped (what he thought were) the right breakers before starting work, a stray live wire was still in the vicinity when he climbed the ladder to make the swap. When he encountered it I heard his shout and the crashing sound of a body falling off a ladder and made it to the room where he was working in milliseconds. Nine hundred dollars later at the ER (where he was pronounced fine, thankfully!) we vowed to only ever let licensed professional electricians do the work. I cringe every time I see people talking about the money they saved doing their own electrical. 
I have a previous owner of my home to thank for their DIY efforts that later ruined several walls. Pushing against a wall only to feel it squish and give way is a very very bad feeling, and it's what happens when someone (I kid you not) duct tapes the plumbing pipes inside the wall. What were they thinking? I can only imagine, but running water is a fast track to destruction, and since I haven't been to plumbing trade school you will never catch me gambling with a house like that. 
Refinishing hardwood floors
Can you do it yourself? Sure. Does that mean you should? I guess that depends on how well you can live with the results if you mess up. I've refinished floors a few times, and they look about like a completely inexperienced person rented a sander and pushed it around after watching a couple YouTube videos. Now I hire a pro who does it right and it looks like it. There's only so far you can go before you run out of floor to sand, and I'm not willing to risk it, especially on a century-old house with irreplaceable flooring. 
Bless their hearts, the previous owners of our home. They clearly did their own drywall work so forevermore I get to admire their (lack of) handiwork, especially those seams I can never unsee. Drywall sheets are heavy and awkward, and the work is a skill that takes quite a bit of practice. I'm not willing to practice on my own home or any real estate investment project, so I leave it to pros who can knock it out quickly and correctly. 
Ah, this one makes me sad, because demolition is so very satisfying. But on day one of tearing down a wall at our old house, my husband stepped on a nail—costing a trip to urgent care and a tetanus shot, and setting us back while he healed. My own overly exuberant efforts at tearing out a bathroom in our Detroit house sent me to the doctor for a hand injury. It also takes a long (long!) time when it's just one or two of us, and who knows what you're breathing in when you start busting out walls and flooring in old houses.
Now my first call is to a demo crew who rolls in with half a dozen workers who know how to avoid injury and protect themselves. It took only about four days to gut a large part of the behemoth Queen Anne I'm rehabbing right now, and nobody ended up needing medical care. I'll call that a win.