After My Dog Passed Away, This Common Grieving Advice Made It Harder to Let Go
We
independently
select these products—if you buy from one of our links, we may earn a commission. All prices were accurate at the time of publishing.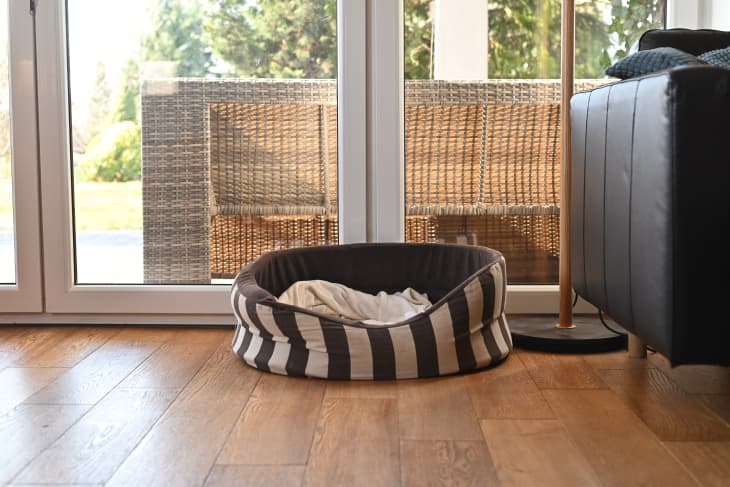 "He's dying," our vet told me five days after my dog had suffered a massive seizure that left him unable to walk. Despite his gums being noticeably pale, I kept telling myself that they had always been this color. I held onto this belief right up until the moment when Dally took his last breath. 
During my first week back at work, a new coworker shared her condolences along with the advice to dispose of Dally's belongings. "It's only going to get harder. I wish I had done it sooner when my dog passed," she told me. A few friends said the same thing, adding that "Dally had moved on" and it was okay for me to do the same.
I tried to follow their advice. I ordered a cedar chest to store his beds, blankets, and leashes which had found a temporary home on his loveseat where he had passed away. The plan was to sort through everything and decide what to keep. The chest arrived and sat empty for three years. 
Elizabeth Harvey Abrams, a licensed mental health counselor based in New Mexico, says losing a pet "can feel overwhelmingly painful and ungrounding." The advice to move on, though well-intentioned and helpful for some people, can diminish your sense of loss. "Many people are uncomfortable with grief and may avoid having to be present with the pain of it by taking a 'just move on' approach," Abrams says. 
From the outside, it did appear as though I had moved on, adding two dogs to the family after losing Dally. Still, I felt conflicted about reusing his things or storing them out of sight. I worried that, with two dogs around, the remnants of Dally's fur would become indistinguishable from theirs. I worried about readjusting the collar that had once fit perfectly around Dally's neck. I worried that making new memories would erase those of Dally.
What made the grieving process even harder was hearing people say, "I'm so glad you have these new dogs." The word new along with the relief in their voice made it seem like these dogs were Dally's replacement and that grief was no longer normal or acceptable. 
According to Dr. Katie Lawlor, Psy.D., a California-based clinical psychologist, "there is absolutely no timeline for [grieving]. Grief doesn't magically end at a certain point after a pet's death." There may be guilt and trauma, especially if your pet's death was sudden, unexpected, or the result of an accident. "The first few weeks can seem surreal," Lawlor says. "You may feel strong one moment, then absolutely devastated the next." 
Lawlor's advice is to "try to maintain a connection to your pet in the space you once shared." If it's too painful to hang onto your pet's things, she suggests donating them to a rescue shelter or planting a garden in your pet's memory. 
Abrams agrees, encouraging bereaved owners to go at their own pace. This can mean setting aside certain items and revisiting them when it feels right to you. Honoring the grieving process can help you "integrate the pain of the loss and the meaning of the time you shared together," Abrams says. "This may take place over a lifetime." 
The idea that grief can last years, even a lifetime, is something I wish more people would acknowledge. As the months turned into years, I kept waiting for the right time to fill up the chest. I kept looking for signs but there were none. 
What helped was starting small and putting away one or two things, each time acknowledging that they weren't just things. They belonged to Dally. They held his smells, fur, and drool marks. The grief I felt then and still feel now reflects the depth of our bond. For Dally and me, moving on was never an option.