I Love Dolly Parton's Retro (and Free!) Hack for Wrapping Gifts
We independently select these products—if you buy from one of our links, we may earn a commission. All prices were accurate at the time of publishing.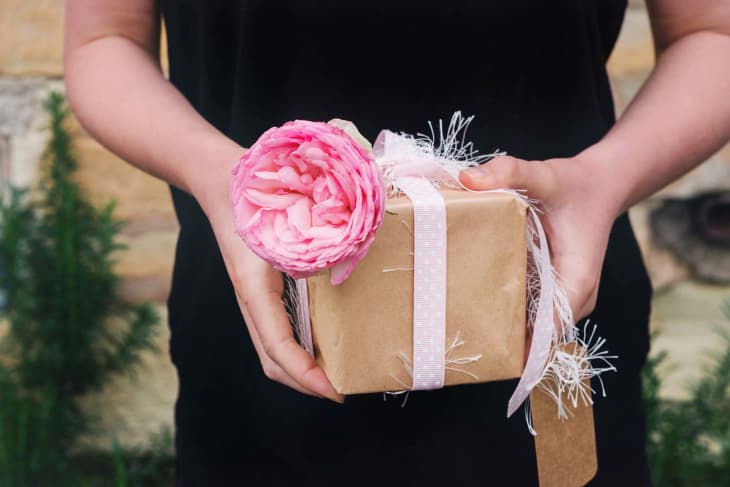 Now that wedding season is here once again, I'm shocked by how quickly the brief winter respite came and went. Overnight, the holiday cards fell from their decorative post on the refrigerator and now, in their place, are invitations for baby showers, bridal showers, a baby's first birthday party, a dog's 13th birthday party, and the list goes on.
Even the process of tearing off pieces of transparent tape somehow goes comically wrong for me. Plus, the waste! Concealing gifts in fancy paper just for the wrapping to be torn to shreds detracts from the experience (and, frankly, so does the price).
Fortunately, there is an answer. And naturally, the problem-solver in this scenario is the iconic Dolly Parton. Instead of using costly rolls of wrapping paper, she repurposes newspapers. A self-proclaimed Christmas devotee, Dolly is no stranger to wrapping gifts — and with her legendary generosity, I imagine it takes her forever, too. But Dolly's humble beginnings as one of 12 children who grew up in the Smoky Mountains meant that gift-giving was more about the love behind the present than the present itself. Logically, fancy gift wrapping was out of the question.
As a savvy workaround, Dolly shared with Better Homes and Gardens that to this day, "I like to use newspaper because it reminds me of being back home. How we used the comics, when they were in color. And I make my own bows sometimes too." Any Dolly Parton-approved retro gifting hack earns an enthusiastic yes in my book! (And speaking of books, definitely check out Dolly's inspiring Imagination Library program!)
For those living in urban areas, it's pretty common to find newspaper dispensers, both free and for a small fee, on the sidewalks. Otherwise, gas stations, convenience stores, and good ol' local bookstores are likely to carry some, if you're not a subscriber. And if you'd like to avoid the modest fee altogether, it doesn't hurt to ask around for a discarded paper when someone's finished reading theirs. 
When wrapping with newspaper, have fun with it! Use Dolly's favorite Sunday color comics for kids' gifts. Pair real estate listings with housewarming gifts (or lean into the irony and wrap them in coupons — new homeowners can always use a discount somewhere!). Because you're saving on the cost of wrapping paper rolls, create some contrast by focusing on your bow-making skills or some bright, unexpected pops of color with ribbon. When gift-giving, it's truly not the wrapping that matters, but the appreciation for the recipient. And if newspaper wrapping is good enough for Dolly's loved ones, it's good enough for everyone!