This Is *The* Hottest New Wedding Gift Newlyweds Are Asking For
We
independently
select these products—if you buy from one of our links, we may earn a commission. All prices were accurate at the time of publishing.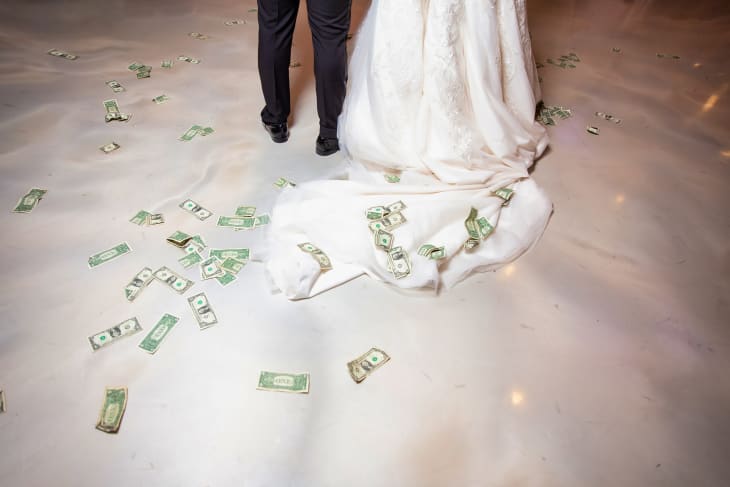 Ahead of their big day, many engaged couples register for kitchen gadgets, home decor, linens, and even sporting equipment — gifts that will help them start their new life together. But a growing number of lovebirds are taking an even more practical approach and asking for cash to put toward a down payment on a house.
The number of couples including a "home fund" on their wedding registry has ballooned in recent years. Since 2018, the proportion of couples asking for money to buy a home has jumped by 55 percent, according to a new analysis by Zillow Home Loans and The Knot. 
Today, nearly one in five couples registered on wedding planning website The Knot have a home fund on their registries, alongside more traditional newlywed gifts. Home funds are now almost as popular as honeymoon funds, according to the analysis.
This trend makes perfect sense when you consider the grim realities of today's real estate market. Newlyweds — like everyone else — are grappling with high interest rates and a limited supply of homes for sale, which together have made buying a house very expensive. Meanwhile, wages aren't keeping up with rising housing costs.
Because of these and other factors, it now takes nearly 12 years for first-time buyers to save up enough money for a down payment, according to Zillow's data.
"A rising share of first-time home buyers need financial help to afford a home in today's market," Orphe Divounguy, a senior macroeconomist with Zillow Home Loans, tells Apartment Therapy. "Diligently saving on your own simply takes too long and may ultimately not be enough for a down payment, depending on your income and where you are home shopping." 
In this environment, every little bit helps — even a few bucks from family and friends as you walk down the aisle. In 2023, 43 percent of buyers put gifts or loans from family and friends toward their down payment, up from 37 percent in 2018, according to Zillow. To Divounguy, this represents a creative and resourceful solution to today's housing affordability challenges.
"Instead of throwing in the towel, [newlyweds] are willing to forgo tangible gifts or honeymoon funds to get closer to achieving the American Dream of homeownership," he says. "These young couples value the benefits of homeownership more than the immediate gratification of new bedding or a vacation."
If you do decide to include a home fund on your wedding registry, you should set up a meeting with a mortgage lender — even if you're not quite ready to buy just yet — to be sure you understand the potential implications of this move. Using gift money for your down payment is generally OK, but you may need to jump through some extra hoops. 
"There are rules about gift funds and the documentation borrowers need to provide as part of their mortgage application," says Divounguy. "In most cases, lenders want to ensure at least some of the down payment comes from the buyer's own savings." 
And while you're busy planning a wedding, try to squeeze in some time to look for other types of down payment assistance, too, says Divounguy. There are lots of resources and programs out there, especially for first-time buyers, so you could be leaving "free" money on the table if you overlook these. A good lender can also help with this.
Just remember you don't actually need to save up 20 percent for a down payment, which has traditionally been the target amount. With some types of loans, you might be able to put down much, much less — even as low as 3 percent. Today's first-time buyers are hovering between 10 and 19 percent for their down payments, per Zillow's data.