The No-Cost, Super-Unexpected Way to Display Blankets That You've Never Thought of Before, According to a Design Expert
We independently select these products—if you buy from one of our links, we may earn a commission. All prices were accurate at the time of publishing.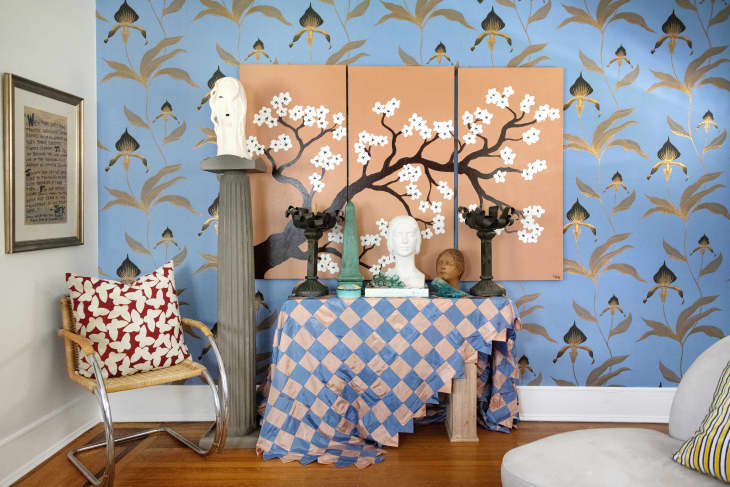 The holiday season may be over, but it's still a cozy time of year, and I have blankets all over every room to prove it — which, of course, poses the problem of how to actually store and style them without things getting messy. After all, you can only fling so many over the edge of a chair or couch before it looks like your furniture caught a cold. If you, too, have a bountiful quilt or throw collection, you're probably craving unique, alternative ways to showcase blankets at home beyond blanket ladders and baskets. 
Follow Topics for more like this
Follow for more stories like this
To get the blanket-styling scoop, I spoke with Virginia Chamlee, artist and author of "Big Thrift Energy," who shared a genius (design-forward!) idea: draping a blanket over a side table or nightstand. Her inspiration initially came from seeing an upholstered armoire in a magazine. "It probably cost a million dollars, but I happened to have this really great quilt I scored at an estate [sale] for $30," she says. "I decided to mimic the look by draping my blanket over a side table to create a one-of-a-kind piece."
This easy blanket-draping design gives any small table a decorative look and feel, without the cost, labor, or permanence associated with an actual upholstered piece. Chamlee notes that this concept can expand to almost any room and fabric, as well. "Rugs, quilts, even tablecloths can all work as a makeshift upholstered side table or console."
Throw blankets and quilts with a bit of weight work particularly well here because they tend to be smaller in dimension, so the fabric will just skim the floor. The end result should look "draped and intentional," adds Chamlee, although there's plenty of room for experimentation "If it doesn't quite hit the floor, play around with the dimensions — maybe try hiking one side of the blanket up, so you can see just one leg of the table, for instance," she suggests.
Above all, though, there's no right or wrong way to style and store your blankets, but consider thinking outside the box (or storage basket) and adding some visual interest to an ordinary end table. Chamlee's final piece of advice? "Keep an open mind," she says. "The beauty in using a blanket as decor [is that it] can easily be moved around — if you hate the way it looks over your side table, just throw it over your coffee table. Rinse, repeat." Plus, you can swap out different blanket designs every so often to keep things fresh. Win-win!