Using a Dresser as a TV Console is the Best Living Room Design Choice I've Ever Made
We independently select these products—if you buy from one of our links, we may earn a commission. All prices were accurate at the time of publishing.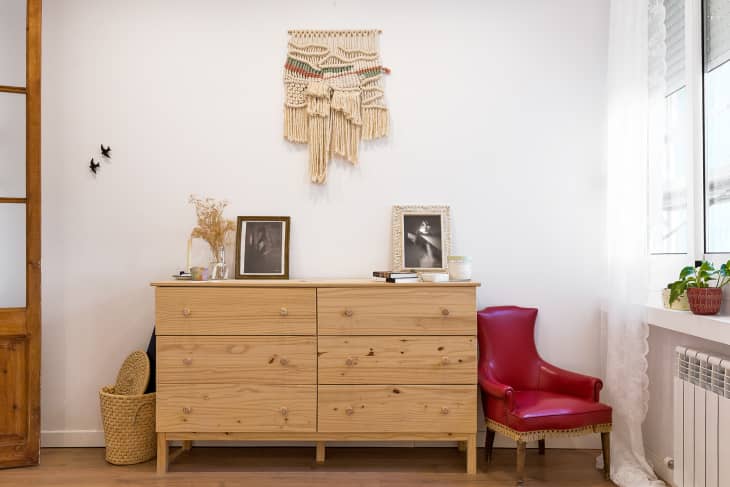 I love television. And I love having a television in our living space. As much as I admire people who prioritize aesthetics over technology and leave a TV out of their family or living room, it's not an option for me. Even though I love having a TV, I've never quite loved the look of readymade TV and entertainment consoles. Sure, there are options out there that are more aesthetically pleasing than others, but in general, it's one piece of furniture that never feels like it has enough character to make a space feel cozy, warm, and lived in, which is a big priority for me.
Follow Topics for more like this
Follow for more stories like this
Plus, consoles often lack the versatility—and storage—that other pieces of older, more traditional furniture, tend to have. When my husband and I moved into our current home, we were in search of a relatively narrow, long piece of furniture that would offer storage as well as a place to put our relatively large TV.  Most of the readymade media consoles didn't really fit the bill, so we kept our eyes open while browsing for other furnishings. 
On one of those pre-pandemic trips to a local thrift store, we stumbled on a paint-stained, 9-drawer bedroom dresser (pictured above) and bought it on a whim. It was missing handles and was beat up in certain places, but it had a certain character to it. When we first found it, the dimensions worked well for our space, so I gave little thought to just how helpful all those drawers could be. Turns out, they are the most strategic thing that we could have added to our space. Right away, we realized that storing our shoes in the drawers was an easy way to keep footwear out of sight. And don't worry: Adding bars of soap or dryer sheets into the drawers with the shoes got rid of any potential smells that might come from storing footwear in such a small space. 
Later, we moved a very handy organizer I found on Amazon (one of my most life-enhancing purchases) into the most easy-to-access drawer. In here, we stored all the little things that we may need to grab throughout the day—charging cords, remotes, matches, candles, etc. There's something oddly satisfying about being able to quickly access (and quickly hide) those tiny pieces that quickly become clutter when left unchecked. Eventually, we swapped out the mismatched white knobs that came with the dresser to simple black hardware. It's still an imperfect piece, complete with paint stains, nicks, and tons of scratches, but something about it balances out the slick, techy nature of the television. 
In the colder months, we sometimes store scarves or gloves here. Other times, we stash folded throw blankets in the drawers or even toys our dog might be using. I'm sure the day will come when we want to move our TV elsewhere, or we'll maybe consider a wall-mount solution for more floor space. But the good thing about using something like a vintage bedroom dresser is that when that day does come, we are still going to be left with a piece of furniture that could work in a variety of rooms throughout the house.