Drew Barrymore Says Nothing Makes Her 'Angrier' Than This Popular Bathroom Trend
We independently select these products—if you buy from one of our links, we may earn a commission. All prices were accurate at the time of publishing.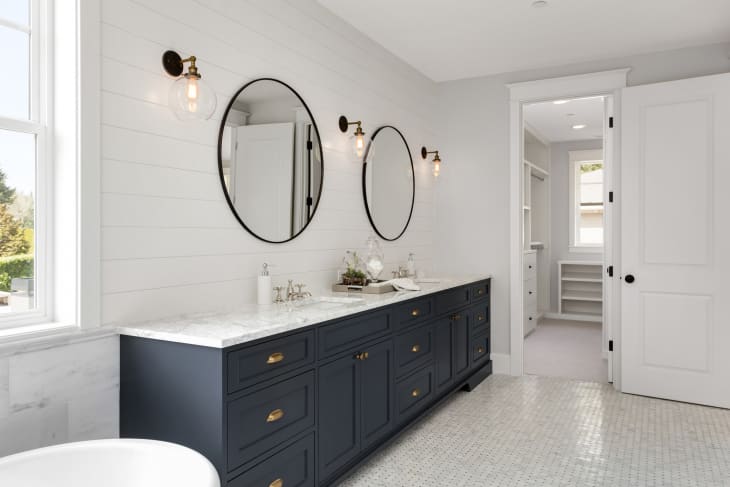 When most people are house hunting or doing a bathroom renovation, the idea of having two bathroom sinks no doubt seems alluring — after all, does anyone really want to share precious sink space with a family member or roommate during harried mornings? It turns out that not everyone's a fan of having some extra wiggle room, though. In fact, none other than Drew Barrymore herself hates a double sink.
Follow Topics for more like this
Follow for more stories like this
On the Dec. 7 episode of her eponymous daytime show, Barrymore was joined by her longtime pal and fellow talk show host Whoopi Goldberg, and the pair discussed the joys of realizing that it's perfectly fine to not want to be in a relationship. Goldberg — who, after three marriages, famously said that she simply "doesn't want somebody in [her] house" — told Barrymore she thinks relationships are "great for other people," with Barrymore agreeing, "this is what I've been thinking, is that they're not for me [right now.]"
Goldberg explained, "For many, many years, I thought, 'I've got to get this right,' and then I realized one day, 'I don't got to get this right. I've got this right for me. Why do I need you to come into my bathroom and irritate me?'"
That response elicited a hearty laugh out of Barrymore, who replied, "Nothing makes me angrier than the double sink movement. I don't want a double sink. I want a single sink! And also, if you're a single, what do you do with that second sink? It doesn't work for storage!"
Goldberg replied, "I can tell you what you can do. Rinse out your underwear," she said, to a full audience clapping and cheering, before mimicking a rinse and wringing of her undergarments. "Rinse it out, wring it out, snap it, get the hanger, put it right in there. You can do all kinds of stuff with a double sink."
There you have it, folks. Not everyone wants a double sink, but if you've got one, at least it can be a multi-use setup, no matter if you're solo or living with someone else.