I've Been Using Dyson's Small-Space Vacuum for 6 Months — and I *Love* Cleaning With It Every Day
We independently select these products—if you buy from one of our links, we may earn a commission. All prices were accurate at the time of publishing.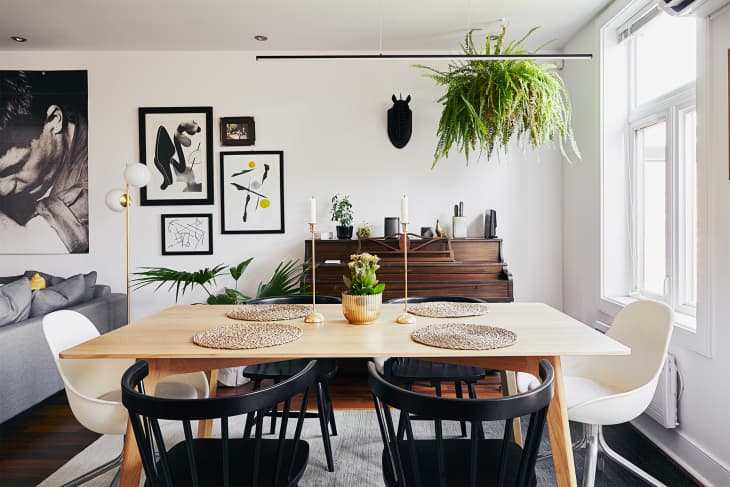 In February, my husband and I bought our first home after more than a year of searching and countless rejected offers. And, somehow, we landed our dream home without going over budget: It has a spacious kitchen, tons of storage in the basement, an in-suite master bathroom, and hardwood floors.
Let's focus on the last part, which was a huge selling point for me. With my sinuses and allergies, I cannot do carpets. And when you also have dogs (one of them being a very hairy, very shed-y German Shepherd), "cannot do" turns into absolutely will not do.
Now, my home's hardwood floors are stunning. There was just one thing I didn't foresee: How easily they scratch. I expected this to happen from excited puppy paws and in high-traffic areas. But, upon moving in, I realized even my standard canister vacuum (or just a simple bristle broom) faintly scratched the floor. Which is why, when I found out that Dyson launched a brand-new cordless stick vacuum, the Omni-glide — designed specifically for cleaning hard floors — I had to have it.
Fast-forward to today and I've been using the Dyson Omni-glide pretty much daily for about six months. Here's what I think about it.
What's special about the Dyson Omni-glide?
The Omni-glide is super unique for many reasons. For starters, the soft roller head (it kind of looks like two paint rollers) is a game-changer for cleaning hardwood floors (as well as other hard floors, like tile and cement). It glides across flooring effortlessly and has never, not once, scratched or scuffed mine.
It also has a unique swivel head that Dyson calls "omnidirectional" and the first of its kind. Basically, it can go forwards, backwards, and sideways and has a jointed neck that allows the head to swivel, so it's able to turn 90º or 180º with the flick of a wrist. The neck also reaches seamlessly under tight spaces, allowing the vacuum to bend so that it's almost flush with the floor if need be (like in the photo above), like to clean under cabinets or furniture. And because the vacuum's head is smaller (just a 8-inch wide head), it can fit into tight spaces that a normal vacuum could never. It also comes with a separate, "combi-crevice tool" that can clean air vents, between couch cushions, and the like.
My honest review of the Dyson Omni-glide
I've been using the vacuum nearly every day since I got it and, to be blunt, I absolutely love it. Everything I described above makes it a standout cleaning tool. I love it so much, I've already recommended it to several friends. If you're looking to seriously deep-clean a 2,000 square-foot house, this vacuum is probably not the best one for the job (the battery wouldn't last that long and you'd have to empty the canister too many times). But! If you're looking for a little guy that you can easily pull out, this is it. I use it most often for quick cleanups, resetting the kitchen and dining room after dinner, picking up the dirt that my dogs tracked in, and reaching tight spaces. Because it's so small, I find that it's easy to reach for, which means that I do … so my house is always shockingly clean.
I do want to point out that it's different from other Dyson stick vacuums in that it lacks a handle, so I've almost dropped it more than once. But, hey, we can just attribute that to my personal clumsiness.
Would I recommend the Omni-glide? I would! And I have! If you live in an apartment or small house and want a hard floor vacuum that'll get into every nook and cranny, the answer is yes. And if you have a larger place and want a second vacuum that'll make tidying up a whole lot easier, the answer is also yes. And if none of these apply to you, well, Dyson has released some other new, larger cordless stick vacuums that are worth checking out, too.
Do you have a cordless stick vacuum you love? Tell us about it in the comments!