I Just Moved Into an Apartment with White Floors and This Slim Vacuum Has Been My Lifesaver
We independently select these products—if you buy from one of our links, we may earn a commission. All prices were accurate at the time of publishing.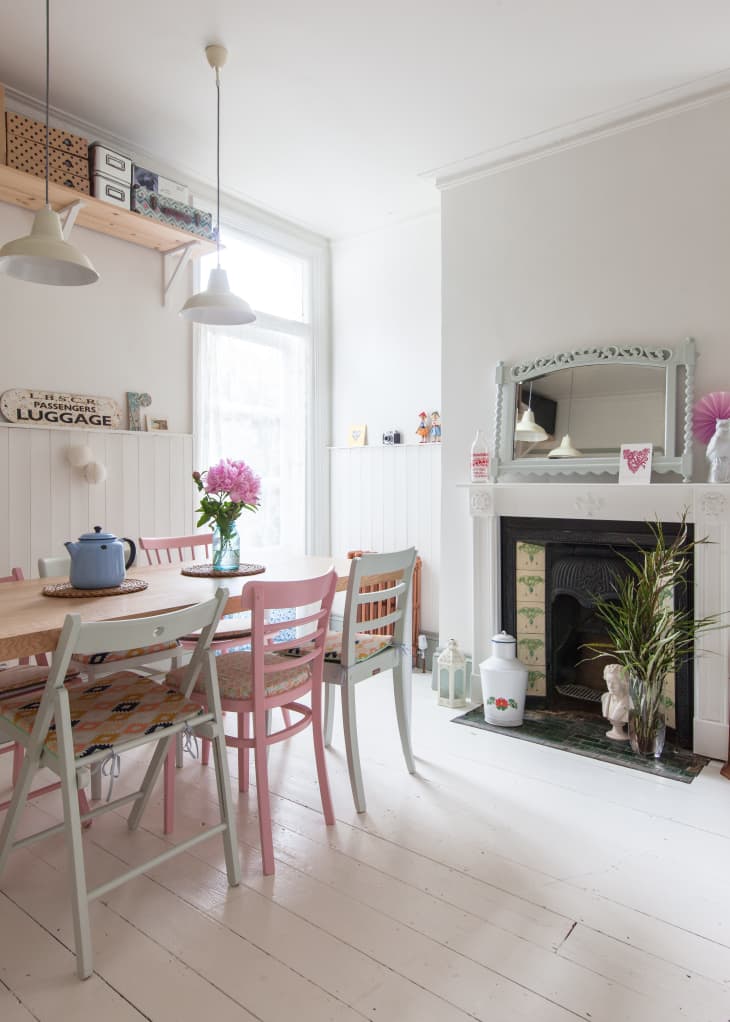 I just moved to New York City, and in doing so, I abandoned my little Los Angeles beach bungalow. With its very 80s kitchen, hardwood floors, and somewhat malfunctioning garbage disposal, I'd grown quite comfortable there — but I was excited for a change. And since my move, I've made a few discoveries about myself. For example, I now have an obsession with the best drill-free shelves and storage solutions (since my landlord made it clear my walls are not to be touched). Or, how I can't believe I ever lived without an organizer for my pots and pans. But the biggest lesson learned? I don't do well with white floors.
Follow Topics for more like this
Follow for more stories like this
I'll even go as far as to say, as someone who self-identifies as a clean freak, the white floors in my apartment are the bane of my existence. Why? Well, because every hair shed from my head, every lingering grain of rice, every single spec of anything, is extremely visible, almost as if to taunt me. Luckily, in my battle against the inevitable crumbs and dirt accrued, I've got an ally — and a powerful one at that. I'm talking about my Dyson V12 Detect Slim.
The essential appliance rarely leaves my side. I take it with me as I walk across the apartment, sucking up stubborn cilantro leaves and soil from my potted plants — which is easy to do, considering just how light the V12 is (just five pounds) and how comfy it is to hold. Actually, I feel straight out of a "Transformers" movie when wielding the thing, because my hand fits so seamlessly into the grip. It's basically an extension of my arm.
Now, there's no doubt that Dyson is a fan-favorite vacuum brand, but please allow me to explain: The V12 is far superior to any other Dyson, IMO. Not only is it 24 percent lighter than previous models, it's also imbued with a special laser technology. The green light shoots out in front of the Laser Slim Fluffy vacuum head, illuminating microscopic dust and other unseen bits (providing a roadmap of where to vacuum next), and demonstrating exactly how clean your home is at any given moment. I like to turn off all the lights so I can max out the laser's potential and go to town! (Which I can do for quite a long time since the machine has up to an hour of battery life.)
Because the Fluffy head attachment swivels a full 180 degrees, I can reach all the dust I didn't know was there (pre-laser illumination, that is) and do so with ease. Plus, the vacuum also comes with a Hair Screw tool (which sucks up pet hair), a Motorbar Cleaner head (no rug fibers, hair, or other debris will ever clog your vacuum again), a Crevice tool (the couch is clean too, thank you very much), and a Combination tool (which tackles the teeny spaces the other attachments can't quite get to). In other words, no matter if I made a huge mess in the kitchen, the neighbor's dog snuck in again, or I'm wondering if my white floors really are as clean as they feel, I'm fully covered.
Although it's small enough to stow away easily in my tiny coat closet, this thing packs a punch. The V12's got a special size-detecting technology, which measures the dimensions of the debris it's picking up and then increases or decreases suction power accordingly. And, its LCD screen proves just how effective it was by recording the size and amounts of particles sucked up. The cleaning whizz is complete with a Hyperdymium motor, Root Cyclone technology, whole machine filtration (capturing 99.99 percent of microscopic particles), and an energy-dense battery. See what I mean? It's totally giving "Transformer."
Long story short, whether you've got white floors or not, investing in the Dyson V12 is more than worth it. Your home will have never felt cleaner, and — if you're anything like me — you'll find the V12 will never leave your side.