I Tried These New Plastic-Free, Zero-Waste Dishwasher Sheets — and I May Never Go Back to Pods Again
We
independently
select these products—if you buy from one of our links, we may earn a commission. All prices were accurate at the time of publishing.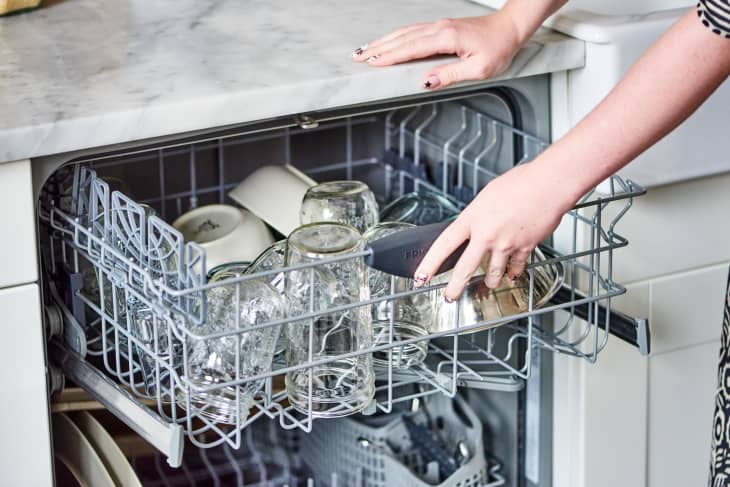 More than 8,000 tons of polyvinyl alcohol-coated (PVA) dishwasher and laundry detergent pods pollute the environment each year, according to recent studies. While many cleaning companies claim pods are biodegradable, research has shown that sometimes only 25 percent break down, with as much as 75 percent of the PVA leaking into the environment. 
Where possible, I like to choose products that are green and support the environment, but I have to admit when it comes to the dishwasher, pods are hard to beat. So when I learned there was a product with zero waste that worked just as well minus the PVA, I had to learn more. 
I've previously fallen in love with the brand ECOS and everything they do. With over 50 years of environmentally conscious cleaning, this woman- and black-owned family business is carbon-neutral, water-neutral, and has been named EPA safe. The company's plant-based cleaning products are made in the U.S. too.
Having loved and used their laundry detergent sheets for a while now, I was excited to try their dishwasher alternative, which they sent to me. The sheets are completely plastic-free and the featured ingredient is coconut. Not only is the fruit full of gentle and powerful cleaning properties, but it's also highly renewable. A single coconut tree can produce over 50 coconuts annually and will fruit for up to 80 years. "When something doesn't serve a purpose, the most sustainable thing you can do is remove it," shares Kelly Vlahakis-Hanks, ECOS president and CEO. "You don't need plastic to run your dishwasher — you just need detergent."
Saving up my dirty dishes, I was so excited to try the sheets. I must be honest, the first time didn't go as expected. With some soapy suds foaming out the sides of my small dishwasher, I thought maybe the sheet was too big or not compatible. However, after a quick call with Jenna Arkin, ECOS chief innovation officer, she advised me that when using new and natural products, sometimes they don't mix well with old formulas and leftover residue. 
"Sometimes a new product doesn't comply with products that were previously used," she explains. "Any time we see excess foaming, the first step is to run a quick or rinse cycle using one cap of distilled white vinegar added directly to the bottom of the washer, while leaving the detergent drawer open to help clear out any leftover suds." After running the quick cycle with some vinegar, it fixed the problem and I've been using the sheets with no issues ever since. 
Besides the many environmental benefits, the sheets have been a game-changer for me and my apartment. With a compact recyclable box, it doesn't take up much space, and even with me having a smaller dishwasher, I've been able to do some runs with half a sheet. The results speak for themselves, with the cleaning power up to par of removing grease and stuck-on food. 
Going green all at once can be a lot of work, especially with a lot of products on the market not having the same outcome in their cleaning abilities, but these dishwasher sheets are different. I can attest that they not only work amazingly, but you're doing your part in making consciously green choices to save the environment.