Ellen's Furniture Collection Is As Likable As Ellen Herself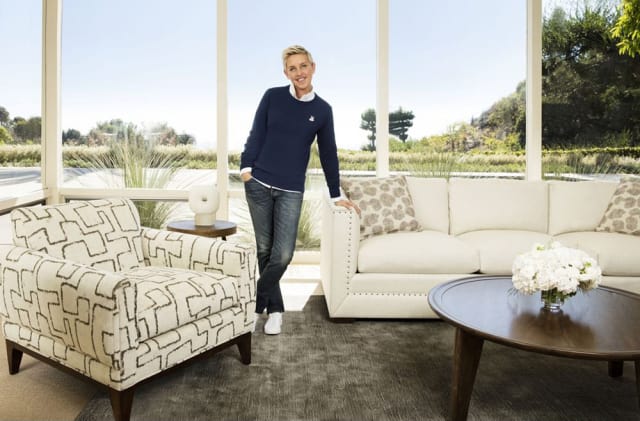 (Image credit: Thomasville)
Funny lady Ellen DeGeneres wants you to pull up a seat—preferably one of hers. The comedian's lifestyle brand just debuted a multi-room collection of furniture with Thomasville.
Thomasville began in 1904 in North Carolina, and continues to be a bastion of classic American furniture design. That, blended with Ellen's personal aesthetic, resulted in the ED Ellen DeGeneres collection, which has two main styles: relaxed mid-century, and rustic modern. The former is inspired by Danish and Italian design and features materials and techniques like walnut, brass, tufting, and caning in classic shapes that have an ease to them. Rustic modern has a more Scandinavian-meets-California twist, featuring knotty white oak, antique hardware, and live edge detail, with deeper seats and some patterned upholstery.
Get a taste in the video below:
The collection is available in Thomasville stores and independent retailers across 31 states and Canada, and can be found online through some of those independent retailers.
Check out some of the ED pieces that stood out to us in the living room, dining room, and bedroom collections:
Living Room
Whether you're a fan of a deep seat or a smaller, more upright sofa, there are options in the ED collection for you. In particular, we're digging the sleek channel tufting on the Trousdale Sofa, and the graphic pattern on the Romero Chair. The brass and glass take on mid-century in the form of the Aldena table, the exquisite carving on the Olthea chest, and the hideaway game table prove it's all in the details.
Dining Room
Depending on style and space, there's an airy take on the pedestal table or a classic trestle. The marble sideboard and tall bar cabinet are functional as well as beautiful, and aren't as visually heavy as these pieces can often be.
Bedroom
The spindle twist on a classic sleigh bed adds a visual lightness and is one of our favorite pieces. The two-door cabinet adds storage and can hide a TV, and nothing says cool like a little bit of stone in the form of a nightstand.