6 Essential Mexican Cooking Tools to Incorporate into Your Kitchen
We independently select these products—if you buy from one of our links, we may earn a commission. All prices were accurate at the time of publishing.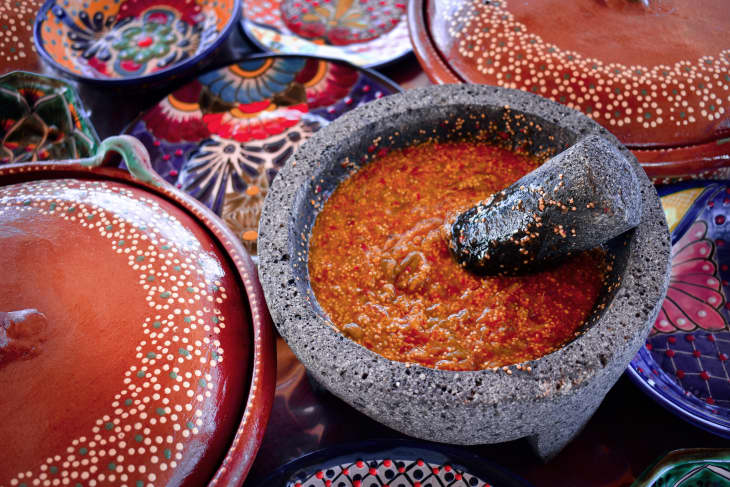 Traditional Mexican food is known for its deep and powerful flavors — and specialized kitchen tools and equipment are to thank for its unique taste, transforming the medley of fresh ingredients into irresistible dishes. These tools help get certain textures, flavors, and shapes just right. When it comes to making the recipes I learned from my abuelita, there are a number of kitchen essentials I can't do without, which I highly suggest considering to elevate your Mexican culinary creations. 
Some of these tools have become indispensable in my cocina outside the realm of cooking authentic Mexican food, too. From muddling my berries in a molcajete for a berry vodka smash to chopping pecans in a few seconds using a tortilladora, abuelita would be proud to see me working smarter, not harder in the kitchen. 
Here are six Mexican kitchen collectibles that everyone should incorporate into their kitchen, and how I've implemented mine into everyday use. 
A comal is a thin flat griddle with a small rim around the edge. Traditionally, the comal is cast iron or clay, and requires the same care as your beloved cast iron skillet, though modern comales are available in steel and nonstick finish. It's usually round, but you can also find square and rectangular varieties to fit over two stove burners at once. I have the cast iron comal my abuelita gifted me when I moved into my first apartment, and a nonstick I opt for when I'm not really feeling up for the maintenance. 
A workhorse in the Mexican kitchen, a comal is used for cooking and reheating tortillas, making gorditas and sopes, charring tomatoes for salsa, and dry roasting other ingredients, like chiles, herbs, and spices. The comal rarely catches a break! It's perfect for crispy quesadillas and serves as a great shortcut for making carne asada. With some light greasing, I use mine for things like searing meat, pancakes, and grilled cheese. I always make enough for leftovers when making breakfast tacos — there's nothing like a toasted chorizo and egg taco in the morning.
A molcajete is a three-legged bowl with a tejolote, or grinding stick, used to pulverize and grind spices, and make pastes and salsas. The traditional Mexican version is made from volcanic rock and needs to be cured to enhance its durability. Be sure not to buy one made of cement, which can shed into food and be dangerous if ingested. Used for guacamole prep, it's also ideal for making hummus and other dips. It comes in handy for crushing things like seeds, nuts, garlic, tea leaves, and basil leaves. Personally, I use my molcajete to crush mint and sugar for mint mojitos. 
If you're not already making homemade corn tortillas, you're missing out. Sure, you can buy them at the grocery store, but take it from someone who's Mexican: There's nothing like a fresh batch. They're tastier, healthier, and hold food better. Making homemade will step up your taco night and chilaquiles. All you really need to make corn tortillas is water, salt, and masa flour, but you will need a tortilladora. They come in cast iron and aluminum, but the aluminum type tends to warp and misshape tortillas. Investing in a cast iron press is worth it — mine is 13-years-old and going strong. Just don't forget to use a Ziploc or piece of plastic bag to keep the masa, or dough, from sticking to the tortilladora. 
Its heavyweight sturdiness ensures even size and thickness (and less effort). Just place the ball of dough in between the two plates and press to quickly make consistent tortillas. A tortilla press comes in handy for recipes where a rolling pin is required, like empanadas, mini pies, flatbreads, dumpling and wonton wrappers, eggrolls, and tartlets. I also use it to crush almonds and walnuts for salads and to form well-rounded, thinner hamburger patties. 
Many Mexican recipes specifically instruct you to cook with wooden utensils. They provide a firm grip, making stirring foods like mole easier and more effective. These utensils won't melt or damage your cookware, and they come in all shapes and sizes. They're ideal for scraping the bottoms of pans when sautéing and browning ingredients. The only downside to cooking with wooden utensils is that they begin to soak up the flavors of food overtime, but luckily they're inexpensive to replace. In the mercado in Mexico, they're readily available for under a dollar — I always stock up when visiting my abuela in Monterrey. And personally, I like the way they accessorize my countertop.
Tamaladas are a huge family and holiday tradition, in which people come together to make dozens of batches of corn husk-wrapped tamales. The smearing, stuffing, wrapping, and steaming of tamales becomes a party affair, and no Mexican kitchen can function without a vaporera para tamales. It's essentially a large stockpot with a lid and steam rack, specifically designed for batch cooking. I take advantage of its versatility and use mine to steam and boil vegetables and seafood, and to make soups, stews, and chilis. 
Ollas and cazuelas de barro are clay pots and pans used for a wide range of purposes, including simmering beans and making rice, moles, and guisados. They're some of the most versatile items to keep in the kitchen and are great for cooking large batches of food, and even baking breads and desserts. You can use them on the stovetop, and because they can withstand high temperatures, they're practical for stove-to-oven recipes and all-day cooking over a direct flame. The clay distributes heat evenly, ensuring slow and delicate cooking. I prefer making my braised meats using a cazuela, and find that any dish I cook in an olla or cazuela tastes better, giving a unique earthiness to the food. When shopping, make sure you buy pots and dishes that don't contain lead, and let them cool before washing to avoid cracking.