Etsy's Harry Potter Mandrakes Will Make You Feel Like a Herbology Wizard
We independently select these products—if you buy from one of our links, we may earn a commission. All prices were accurate at the time of publishing.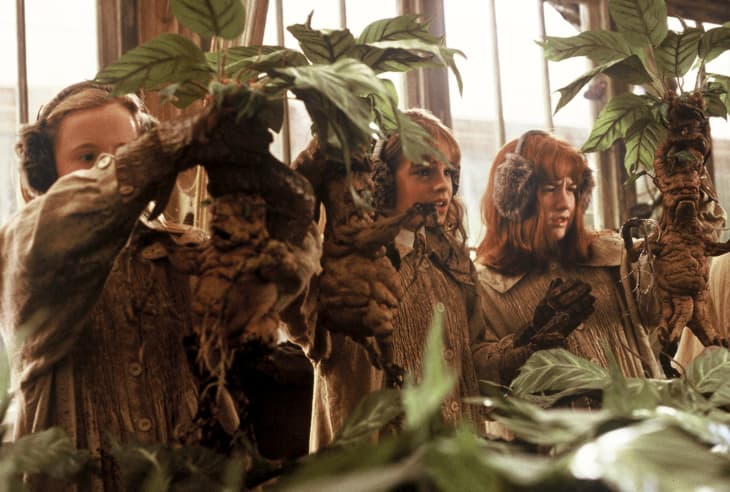 Do you know what a mandrake is? If you're a botany enthusiast, you probably do. However, if your plant knowledge ends right around "dandelion" and "ivy," you
may not know. It's a hearty root, but it's also different from other growing thingamajigs in that it…kind of looks like a human. And if you're a fan of Harry Potter franchise, you know this more than anyone as to how alive they can seem.
Thanks to various sellers on Etsy, you can now purchase your own mystical mandrake that magically requires no care at all (in other words, faux). They're an excellent choice for home decor as they are funny looking and serve as conversational icebreakers. Plus, another excuse to sport your Harry Potter pride with a plant like no other (then place them in these levitating planters for a finishing touch!).

Here's a quick Herbology refresher: During class, Harry and his classmates are tasked with repotting mandrakes. Hermione dutifully informs her pupils of some of the superstition surrounding the mandrake: lore has it that they shriek when they are pulled out from the soil. Mandrake roots are known for their hallucinogenic, anticholinergic, and even hypnotic effects. These kinds of reactions have been noted for ages and the mandrake has become a common component of magic rituals as a result.
 
All of this is to say, these little buddies look great inside and you should get one for
your house. While you can't snag the real ones easily online (although you can buy mandrake seeds on Amazon!), there are plenty of faux options that really let your Potterverse flag fly. For some extra cute artificial mandrakes, check out these options below:
Follow Topics for more like this
Follow for more stories like this
These quirky little dudes would lighten the energy in any room.

Look at these buddies just waiting to be your roommate! They might be made
of clay, but they look alive with magic to us.

If friends think your mandrake is making an odd face when they come over,
that's probably because they do have odd 'faces.'