Evan's Old-Timey Apartment & Studio Space
We independently select these products—if you buy from one of our links, we may earn a commission. All prices were accurate at the time of publishing.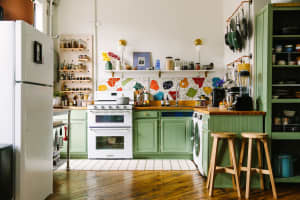 Can't-Miss House Tours Straight to Your Inbox
Keep up with our latest house tours each weekday with our House Tour of the Day newsletter
Name: Evan B Harris
Location: Portland, OR
Size: apartment is about 500 sq ft, attic studio space is about 1000 sq ft
Years lived in: 3
Follow Topics for more like this
Follow for more stories like this
Today we are invited into the home of Northwest artist Evan B Harris. The small space that he lives in exudes a dreamlike quality that is reflective of both his art and personal style. Throughout his home and studio space are thoughtful vignettes that tell stories with artfully arranged keepsakes and collected objects.
Evan's apartment consists of a bed/living room, a small kitchen and a tiny bathroom housed in one of the first homes built in SE Portland. The history of this dwelling sets the tone for all things Evan B Harris. There is a story behind nearly everything in his place. Many of the visual elements in his apartment are old, some are very old. The portraits hanging on the wall are those of his great grandfather and historical figures. The worn zebra rug that adorns the floor is an amazing thrifted find that narrowly escaped being thrown into a Los Angeles dump. Stylistically the apartment has a very theatrical feel. Charming and cozy like an image from one of his paintings. Though there are a lot of things around (musical instruments, old typewriters, feathers, old books), they are arranged in a way that doesn't feel cluttered. On the contrary, you get the feeling that Evan is a very particular, neat person. Just to the left of his apartment entrance is a staircase that leads up to the attic of the old house. He has converted this space into his studio. The lofty ceiling with newly added skylights and the rough wooden floors lend themselves to being a creative getaway. The studio space is nearly twice the size of his living area. In one of the eaves next to windows that overlook downtown Portland, he has built a fort of driftwood and velvet. In this pleasant corner he draws and paints. You can see some of his work on his website. He has prints available through Sebastian Foster.
My style: I'd say my style is part Mutter Museum, meets country cabin, on the seashore.
Inspiration: I'm like a magpie collecting shiny things. But my shiny things aren't so shiny. I love threadbare looking objects, something thats looks like it's lived a lot of different lives. I'm sure this aesthetic comes form my father. When I was young my Dad and I would go to old homestead sites around Oregon and dig up treasure. Well at least that's what I thought it was. I still love the hunt. So, I spend a fair amount of time at the junk shops around Portland looking for something with personality and a great story to tell.
Favorite Element: All the art work in my place was painted or built by my Dad. From the paintings of Stone Wall Jackson and Jesse James, to his more recent impressionism pieces I have hanging in my kitchen. The folk birdhouses and the great clipper ship in my bathroom. These are my favorite elements in my home.
Biggest Challenge: Since I'm just renting and can't really make any big changes to the place. I have to figure out ways to hide stuff I can't get rid of. Like the second door in my tiny bathroom that doesn't open, it's nailed shut. You can't put anything in front of it or it just looks like your trying to barricade yourself in. So now it's hidden nicely behind a curtain.
What Friends Say: Is that a real zebra?
Biggest Embarrassment: My front door with the patch over the hole that someone put in it, not me.
Proudest DIY: The drift wood forest I made around my workspace in the studio. I gathered it for an art installation but never used it. Now I just want more to keep on building.
Biggest Indulgence: I'd have to say Edison triple loop light bulb. It was twenty dollars, that's a lot for a light bulb.
Best advice: I think it's great to have a kinda theme for each room. This way you get a different feeling from each space you walk into. It's all about creating your own world that reflects who you are and what your interested in. I think it's the one place we can truly be ourselves. So, just make a nest and live in it.
Dream source: I'd say my dreams when I sleep are a big source of inspiration…. if I could only build what I see in my dreams. I don't know if everyone dreams the same but the colors and the lighting is always perfect in my mind. Everything is very surreal. With plants growing up from the floorboards, doors that open into seashore, rooms that are strangely crooked but still your able to walk a strait line through them. Maybe some day I might have my dad build me one of those crazy house I see jin my head, a place where the plants and animals can run wild and there's not a strait angle in the place. Build my very own Winchester House.