The 3 Exterior Paint Colors That Help a Home Sell the Fastest
We independently select these products—if you buy from one of our links, we may earn a commission. All prices were accurate at the time of publishing.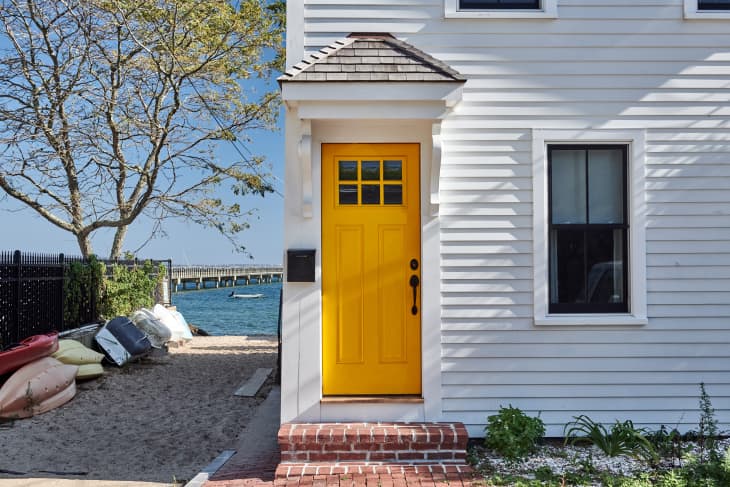 When it comes time to give your home a fresh coat of paint, there's the always option of choosing a new color. But which shade will look the best when all's said and done? 
Follow Topics for more like this
Follow for more stories like this
A huge part of a home's marketability has to do with curb appeal — and the exterior paint color plays a major role. According to a 2019 analysis by Zillow, diving into some basic curb appeal projects — including repainting the exterior of your home — is a must when preparing a home for sale. This rings especially true during these pandemic times when buyers are more reliant on photos and virtual showings when house-hunting.
Even if you're not selling your home just yet, it's worth it to keep first impressions in mind. And while paint selection is often subject to trends and personal preferences, Nicole A. Ramos Beauchamp, a Global Real Estate Advisor with Engel & Völkers NYC, says that there are, in fact, strategic color choices that will make a good impression on potential buyers one day.
Use exterior paint to create a blank canvas.
Similarly, Beauchamp recommends timeless, neutral colors for a home's exterior. "It helps when the color palette is neutral so that the purchaser can envision the design choices they actually want," she adds.
Staging a home's exterior is not so different from staging its interior. Inside the home, the seller might remove family pictures and pare down personal effects to create a neutral backdrop. In that same vein, exterior paint can be used to give a neutral impression of the home, before buyers even step foot inside. This way, potential buyers can better imagine themselves inhabiting the space and getting creative with landscaping and finishes.
Put yourself in the buyer's shoes.
In today's hot housing market, more buyers are looking for turnkey properties that won't break the bank to upgrade. "It can be hard to see past highly-specific design and color choices," says Beauchamp. "And although it's 'just paint,' a purchaser may view it as one more cost on top of what is, for many people, the most expensive purchase of their life."
Neutral colors like greige, white, and gray are appealing to buyers because they are more stable to exterior exposure and aren't likely to go out of style. They also go with a variety of finishes and accent colors, should the purchasers choose to do some minor renovations down the line, such as swapping out the windows or doors.
Spice up neutrals with contrasting accents.
One way to make a neutral exterior really pop is by adding some contrasting elements. Beauchamp recommends using a contrasting paint color for things like trims, window frames, and doors. Doing this will not only give your home visual flair and highlight its architectural elements, but it can also be a great way to set your property aside from others.
Moreover, some accent colors have been proven to actually increase resale value. For instance, according to a Zillow Paint Color Analysis, a black front door can boost the price of your home by almost three percent.
But it's not one-size-fits-all.
If the home has a specific architectural style, it should be factored into the exterior paint choices. For example, Victorian homes are best suited by deeper and saturated shades, such as ochre, russet, chocolate, and taupe. Additionally, sellers should consider the region the home is located in and if there are any area-specific color and style norms. A home that engages well with its surrounding environment will be more appealing to buyers, and as a result, will sell more quickly.
And finally, if the home is historic, situated on a historic block, or part of an HOA, sellers may not have the latitude to change the exterior colors at all. If this is the case, sellers should consult with their local Landmarks Preservation Commission or HOA board to find out what they are able to change and improve.