This TikTok-Famous $17 Gadget Keeps Snacks Fresh and Saves so Much Money in the Long Run
We independently select these products—if you buy from one of our links, we may earn a commission. All prices were accurate at the time of publishing.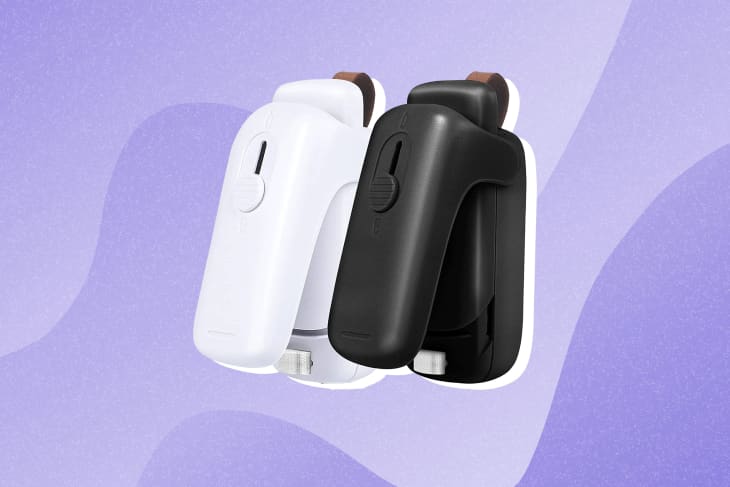 I love chip clips for what they do, but not how they clutter my kitchen drawers. And still, they're ridiculously easy to lose, and I can never manage to find one when I need it. Plenty of tutorials exist on how to fold bags without extra accessories, but even then, how often are we willing to take those extra steps rather than roll up the open bag and hope for the best? It's fine if a little air gets in — the chips will be gone before they go stale… right? There's got to be a better way!
Follow Topics for more like this
Follow for more stories like this
TikTok is known for leading viral trends, and they don't stop with dance moves. App users also generously share their favorite finds for products to use around the home, and yes, there's one that serves as a great hack for keeping snacks fresh in the pantry. Recommended on TikTok as "the most effective tool in the kitchen," the EZCO Bag Sealer Mini is a handy, tiny tool that's under $17, fits in the palm of your hand, and easily reseals snacks in their own packaging.
Short videos on TikTok have led shoppers to Amazon to snag the EZCO Bag Sealer Mini, a 2-in-1 gadget that cuts bags as well as heat-seals them with no preheating required. It's powered by two AA batteries, equipped with a magnet so you can easily stick it to the refrigerator, and comes in a 2-pack so you can always have a backup or share one with a friend. "I love this little bag sealer," said an Amazon review. "I ordered it, but to be perfectly honest, I was skeptical about how well it would work. It was inexpensive for a 2-pack, and seemed so simple. I was pleasantly surprised at how easy it was, and how well it worked. What a great little gadget!" 
While TikTok shows how easy it is to use the bag sealer, it doesn't completely rule out the margin for error. As exciting as it can be to know that swiping this tool over a bag of chips can close it up, it's been noted more than once that you can't rush the process or move at a snail's pace. Going too fast doesn't give the device a chance to properly seal the bag, and going too slow could put excess heat on a single spot of the bag and burn through it. The best method is to straighten the bag first, then make a single measured pass in one direction before going back over it again in the other direction. It's easier than it sounds, and customers who've gotten the hang of it can't get enough. "I have been sealing EVERYTHING!" said a review. "We seem to never have enough chip clips, and this solves that problem. My kids love to use it too. It is super easy to use and small enough that it just stays in the counter so it is always easy to find when I need it."
Along with its ease, convenience, and effectiveness, another perk of the EZCO Bag Sealer Mini is one we all love to hear: It helps save money in the long run! "I was tired of throwing away chips, cookies and other snacks," expressed an Amazon shopper. "This handy product is now saving me money and food. I used to put everything I opened in ziplock bags, which was also costing me money. Now I open a bag, and seal it in the same bag! It's a must have for money savers! Thank you!"