I Never Thought I'd Fall in Love with the Suburbs — Until I Found This Close-Knit, Progressive Oasis
We
independently
select these products—if you buy from one of our links, we may earn a commission. All prices were accurate at the time of publishing.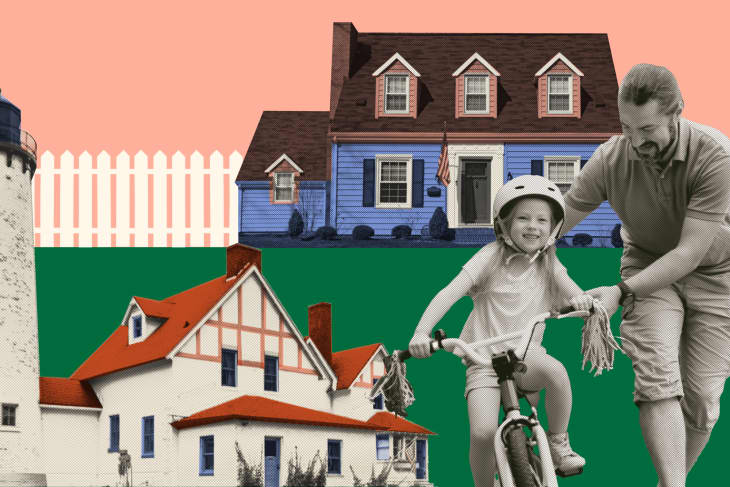 When my husband and I decided to move our family to the Milwaukee area last year to be closer to my family, we saw an opportunity to take stock of our values. Like many others, the pandemic amplified details about our lives we'd never thought twice about. For starters, we loved having enough space to raise our two boys, but we also missed the community vibe of city living.
After several years in Minneapolis proper, we spent a few years in a suburb about 15 minutes from downtown. While we appreciated the quarter-acre lot and extra bedroom, the only place we could walk to was a playground, and everything else was a few miles away. We had a few great neighbors, but people mostly kept to themselves, and I found myself feeling lonely. Stay-at-home orders only made things worse. 
We started talking about moving in fall 2020, and I had my heart set on where. I'd spent a few years living near Milwaukee as a kid, and I remembered a charming-but-urban-feeling little town called Whitefish Bay, a few miles north of city limits. It had the best of both worlds — bigger lots and more square feet than many city homes, but was also super walkable and bike-friendly. 
We made an offer on a three-bedroom Cape and moved to Whitefish Bay in February 2021. After the initial stress of relocating with two kids and a dog wore off, I knew right away we'd made the right choice — and that my magical childhood perspective on this place wasn't totally off-base. Our newly flipped house was a huge game-changer, but what we still love most is the community of Whitefish Bay.
It was February 2021, before most of us were vaccinated, so I took it upon myself to introduce myself on a Whitefish Bay Parents Facebook page. Parents reached out to welcome me and fill me in on the schools and local activities, which helped me plan our future IRL routines. 
As we got more comfortable going out and about, our love for the community kept growing. Walking our kids to a local pizza place with a patio and biking to the boys' soccer practice were huge perks. And living a mile from a Great Lake? Talk about a dream. The best part, though, is the people who live here — folks who, for the most part, are looking for the same thing we are: a progressive (and also gorgeous) place to raise kids.
We got lucky, because our actual neighbors are amazing. I've already made lifelong friends with the people across from us, but the close-knit vibe extends beyond just our neighborhood. On any given street, you can find people camped out in chairs on their front lawn as kids run between yards. Local playgrounds are always hopping, and when it's snowy outside, expect to bump into someone you know at the library or coffeeshop. 
To me, a great community isn't just fun; it's also supportive. When my dad died of cancer this summer, neighbors I hardly knew showed up on my front porch with meals and baked goods. Moms I'd met outside the school sent me flowers and offered to take my kids to the playground. A friend down the street took care of my plants and got my mail when we were out of town cleaning out my dad's house. I had just lost one of the most important people in my life, but I never once felt alone — in many ways, I owe that to my local community. 
Now, I know good people are all over, and that my outgoing, talkative personality plays a big part in how I experience support. I also know I'm privileged to afford a house I love to live in, and to live in a community with so many amazing amenities. But I can't shake the feeling that there's something objectively special about where I live. You can find a suburb that feels family-friendly pretty much anywhere. What's really special is when a community, when you need one most, feels like your family.