The Cleaning Hack My Family of 5 Uses to Stay on Top of All Our Laundry
We
independently
select these products—if you buy from one of our links, we may earn a commission. All prices were accurate at the time of publishing.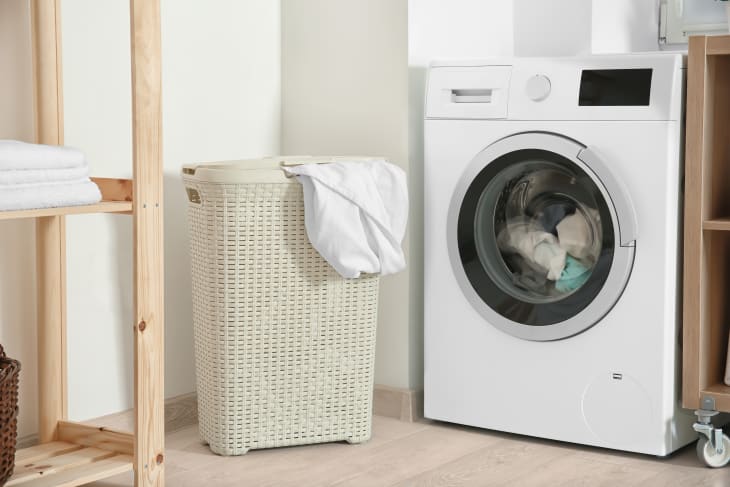 There are few things parents dread hearing as much as a child asking if their uniform is clean the morning of the big game (or even more terrifying, why their underwear drawer is empty). As a family of five (plus one oversized dog), we constantly found ourselves fighting the battle of the bulging hamper. After having zero luck with several different laundry hacks online, I finally found something that worked for us: implementing a laundry schedule. 
Back before I had kids, I could get away with doing a load or two of laundry a weekend without having to dedicate any real time to stay on top of the wash. However, once we started our family, using the weekend as our time to catch up on laundry quickly became impossible. Not only could I not get everything done without spending the day tethered to the laundry room, but there were just other things that needed to be done in that two-day time slot. I started penciling in laundry days on a family schedule and was surprised by how much that little act improved our wash days!
It may sound like a simple thing, but having "laundry" written down on my planner prevents me from saying "I'll just do it tomorrow" whenever something else comes up (plus, I like getting that little dopamine burst every time I cross it off my to-do list). 
We've discovered that doing one to two loads every Monday, Wednesday, and Friday keeps us all in clean socks while preventing things from piling up. Over the weekend, we usually wrap up any linens that didn't get done during the week because we don't care as much if our towels or blankets have to sit a bit longer in the dryer while we run out for afternoon soccer and tee-ball games. 
Unfortunately, our laundry room is at the end of our very uninviting basement, which means I don't let the children (the oldest of them is only seven) go down there unsupervised. This means all of the loading and unloading of the washer falls to me and my husband.
We've figured out a way to incorporate the kids though and routinely have them join us in our bedroom as we all stand around and fold clothes together. After we've cleared the bed and folded or hung everything on hangers each person is responsible for getting their clothes put away. Well, almost everyone… our two-year-old hasn't quite mastered putting clothes back where they belong so this still falls to an adult. 
Scheduling laundry days may seem like a silly "hack" but it works for our family of five. And you know what they say: "if it's stupid but it works, then it's not stupid." Putting our wash day on the calendar three days a week works for us and this little trick has kept our laundry from piling up while we're busy living our lives.