Famous Address: Life in the Dakota Apartments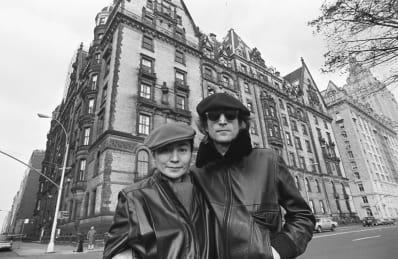 (Image credit: Allan Tannenbaum, Getty Images)
Ask any New Yorker what's worth taking a peek at on the Upper West Side of Manhattan and you'll be hard pressed to find someone who doesn't suggest the Dakota. Towering over the corner of 72nd Street and Central Park West, the iconic apartment building looks more like something you'd see in a storybook—tall Gothic-style gables, deep sloped roofs, and arched entrances—than on the streets of New York. Yet, there it is, in all its glory: "the most famous apartment building in New York City" with a history that's almost as legendary as its architecture.
History
In the years following the close of the Civil War, New York City experienced an upsurge in population and a need for housing. Edward Clark, an attorney and entrepreneur who'd made his fortune from the Singer Sewing Company saw an investment opportunity. In December 1877, he purchased the then rugged plot of land on the Upper West side and commissioned Henry Janeway Hardenbergh—the firm behind the Plaza Hotel—to design a luxurious building that felt more like a "family hotel" than a brownstone.
By 1880, construction on the Dakota was underway. Influenced by Clark's travels to Europe, the building's architecture displays a mix of German Renaissance motifs—buff brick exteriors, terracotta spandrels, and freestone trimmings—as well as a French-inspired courtyard. The layout of the building also draws from popular French styles of the period: tall ceilings, long rooms, and an enfilade-style floor plan.
By the time the Dakota made its debut in 1884, the residence boasted a total of 65 suites (With 4 to 20 rooms each), 8 elevators, and 9 floors. Rooms (no two of which were alike) were outfitted in marble floors, rich mahogany woodwork, and electric lighting—making it one of the first large-scale residences to offer such a provision. No surprise then that every single one of the Dakota's suites was leased before the building even opened.
In 1969, the Dakota was designated as a New York City Landmark and in 1976, a National Historic Landmark, the Dakota remains one of the most famous addresses in New York City to this day.
Who has lived there?
The Dakota's storied residents are almost as fabled as the building itself.
Long embraced by the rich and famous, celebrities including Judy Garland, Lauren Bacall, Rosemary Clooney, Leonard Bernstein and most famously, Yoko Ono and John Lennon—Lennon was murdered outside of the apartment gates in December 1980—have all called the Dakota home.
That being said, the Dakota is also one of the hardest co-ops to get into in Manhattan. Celebs such as Cher, Madonna, Billy Joel, Carly Simon, and even Melanie Griffith and Antonio Banderas have all been rejected by the building's super selective board.
(Image credit: Derek Hudson, Getty Images)
Who lives there now?
Yoko Ono still lives at the Dakota (and reportedly brings sushi to the building's annual potlucks), along with Maury Povich, Connie Chung, and singer Roberta Flack (who has listed her place at the famous address). Celebrities aside, the Dakota's current list of residents reads like a who's who of New York. Filled with affluent entrepreneurs, real estate executives, and notable finance tycoons, the residence stays true to its upscale roots to this day.
How much does it cost to live there?
As of today, the Dakota offers a total of 94 units, most of which are occupied. However, there are currently four active listings in the building, ranging from a $12.5 million park-facing apartment with three bedrooms to a 730-square-foot one-bedroom apartment for $1.295 million on the ninth floor. And though you'll need much more than a famous name and a hefty budget to get into this iconic address, ogling the building's lavish rooms and architecture from a safe (and non-judgmental) distance doesn't cost a thing.
Re-edited from a post originally published 8.25.2017 - LS
Apartment Therapy supports our readers with carefully chosen product recommendations to improve life at home. You support us through our independently chosen links, many of which earn us a commission.