These Are the Unmistakable Features of a 1950s House, According to Real Estate Agents
We independently select these products—if you buy from one of our links, we may earn a commission. All prices were accurate at the time of publishing.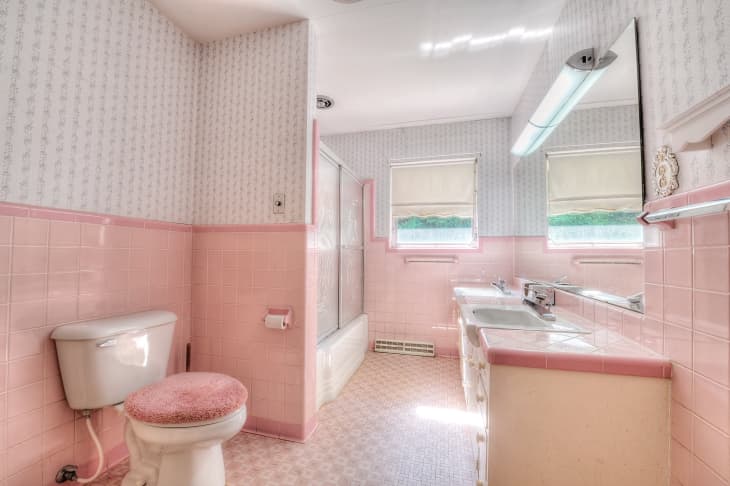 The 1950s gave us rock-and-roll, poodle skirts, and passenger jets, but this decade also gave us some seriously striking home design and architectural features. After World War II, Americans began buying homes with gusto, many of them in newly developed subdivisions on the outskirts of cities. The G.I. Bill made it possible for millions of (mostly white) returning servicemen to obtain low-interest mortgages, and they were eager to live out the American dream via homeownership in the suburbs.
Though many 1950s homes have been renovated and modernized, you can still find a few totally retro gems here and there.
Follow Topics for more like this
Follow for more stories like this
"Nearly every town has a neighborhood that was built in the 1950s," says Cheryl Nightingale, a real estate agent in Sacramento, California. "These neighborhoods have some of the best and most interesting renovations due to the unmistakable style and the sleek, clean lines. There are subtle differences between the authentic retro and the nuevo retro. Sometimes it is the color, the functionality, or the curves in design that tell the tale. The 1950s were in a class all their own."
Curious about how to spot a true 1950s home during your search? Here's what to look out for, according to real estate agents.
Though today's homebuyers are pretty obsessed with open-concept layouts, there was a time when homeowners wanted just a little separation between rooms. That's why you'll find some creative room-dividing elements when you walk into many 1950s homes, says Amy Owens, a real estate agent in New Jersey.
"It would not be surprising to find a mirrored wall or a glass block wall," she says. "The glass block wall may be reminiscent of a diner."
If a 1950s house hasn't been updated, you'll know almost immediately when you walk into the bathrooms and find yourself thinking about strawberry or pistachio ice cream.
"Think pink or light green tiles in the bathroom, and a matching sink, toilet, and cast iron tub," says Glen Pizzolorusso, a real estate agent in Fairfield County, Connecticut. 
Extremely Extra Wallpaper
Many homes you see on the market today have neutral interior paint colors like beige, grey, or white. But in the '50s, big, bold, and colorful wallpaper patterns were all the rage — all over the house.
"Bright colors and abstract patterns are giveaways to the '50s," Owens says. "Fruit patterns and funky shapes were common themes. Wallpaper was not confined to just one room, it was used in living spaces, kitchens, bedrooms, even bathrooms."
Peak underneath the vinyl dining room chairs and the chrome-legged tables that were popular in many 1950s homes and you'd often find linoleum, that durable, easy-to-clean flooring material that comes in an array of bold patterns and styles. 
"White-black checkered linoleum was one of the dominant trends for flooring," says Matt Ward, a real estate agent in Nashville.
In addition to linoleum, wood floors were also incredibly popular in the 1950s. And, if you're currently renovating a 1950s home, you'll also know (thanks to lots of blood, sweat, and tears) that they were likely also covered up with carpet or other flooring materials in the intervening years.
"Often, there are original wood floors under whatever other flooring may have been added in previous decades, and the thick, old, real wood planks can be beautiful, even if they need a little repair and rejuvenation," says David North, a real estate agent in Washington.