I Have Two Dogs, and This is the Odor-Fighting Spray I Swear by to Keep my Furniture and Carpets Smelling Fresh
We
independently
select these products—if you buy from one of our links, we may earn a commission. All prices were accurate at the time of publishing.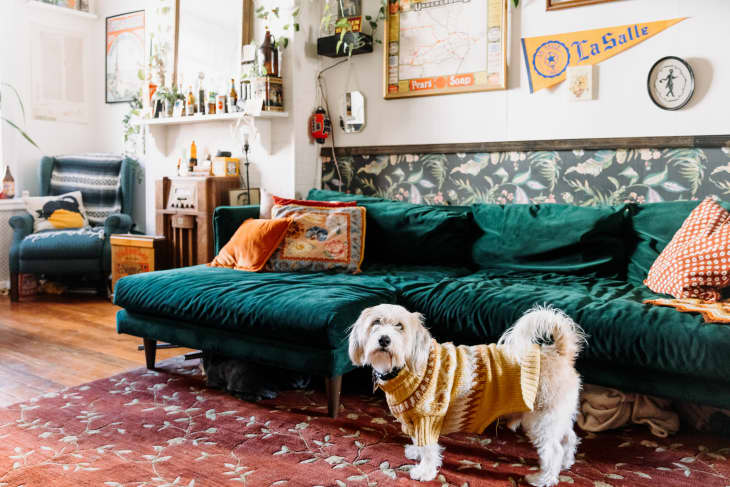 When I got a new puppy two months ago, I felt like I went into a cleaning overhaul. Extra blankets, towels, and more had to be washed — and that's not even counting the soiled dog bed and my gorgeous Iris Apfel-designed washable rug that's been tracked over with dirty paws. Long story short, there was a lot of washing, scrubbing, and sanitizing that increased all of sudden as puppy, Chai, got used to his new home. The messes have decreased over the past few weeks, and my apartment is returning to its pre-puppy cleanliness; however, the cleaning products I've been relying on are the real champions. That's especially true when it comes to odor eliminators. I adore having dogs at home, but I can't say the same about my apartment smelling like one that hasn't had a bath. One product that's helped me keep away the nasty odors that can seep into furniture and carpet is Febreze's Fabric Antimicrobial Spray.
Though I primarily use the Febreze Fabric Antimicrobial Spray to get rid of bacteria and odors, it actually has a number of purposes. According to the label, it kills up to 99.9 percent of bacteria on soft surfaces, prevents mold growth for up to 14 days, and refreshes fabric by eliminating odors and sanitizing. I use the spray as a finishing step when I have to wash the dog beds or clean a stain from the carpet or couch, and it helps to neutralize any unpleasant scents that I wouldn't want wafting through my space. It doesn't have a lingering fragrance like other Febreze products, but it does smell clean when sprayed out of the bottle. The directions for use are clear and simple: To refresh and sanitize soft areas around the home, you just spray the area (or item) until slightly damp and allow it to air dry for at least five minutes. I usually leave it alone until it's completely dry. During that time, it eliminates odor, kills bacteria, and freshens up your space. You can even use it routinely to revive the freshness of carpet, rugs, upholstered furniture, pet beds, and more.
You can score a twin-pack of Febreze Fabric Antimicrobial Spray for under $20, and the 32-ounce bottles last for a while. I can't tell you the number of times I've had to wash dog bed covers in the past couple of months, and I still have a little under half of the bottle left. It gets great coverage with just a few sprays, so you aren't wasting product in the end. If you want an odor remover without the perfumy fragrance, this is certainly one that's worth trying for yourself. I love it!