How to Have a Still-Very-Festive New Year's Eve Celebration at Home
We independently select these products—if you buy from one of our links, we may earn a commission. All prices were accurate at the time of publishing.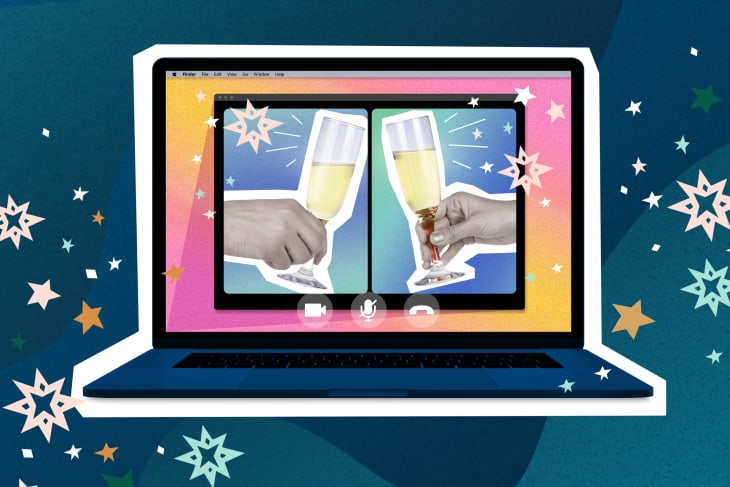 Most of us are more than ready to toast to 2020's end. But like pretty much everything else this year, New Year's Eve celebrations won't be what we're used to. 
Here's the good news: Celebrating at home means you don't have to make awkward small talk with your best friend's co-worker's boyfriend at her annual NYE blowout, or shell out hundreds for an open bar at a crowded dive, or stand around at a house party where the pigs in a blanket (or worse, the drinks!) run out by 10 p.m. This is the year to finally stay in on NYE without feeling guilty about it! In fact, you can feel great about your decision to keep yourself and others healthy by cozying it up in your home. 
And whether you'll be counting down to 2021 with the person or people you live with or going it solo, we promise you can still make it a celebratory evening. We asked event planners to share their best tips for ensuring that, while 2020 might've been a year to forget, your welcome party for 2021 will be an affair to remember. 
Start by picking an overarching theme or activity to guide the night. 
Staying home doesn't mean you can't create a party-like atmosphere with your household. Tykeria West, founder and CEO of A Touch of Ty Events in Atlanta, suggests playing a murder mystery game, doing a paint and sip, or learning to make cocktails as a group. "Those are things smaller groups can do because, budget-wise, you don't have to worry about getting supplies for so many people," she says. "It's easier to accommodate." 
Of course, you can also do all of those activities with friends and family virtually. For example, Painting to Gogh offers video tutorials. You can search YouTube for cocktail how-tos from top mixologists like Steve the Bartender. And you can even spring for a virtual murder mystery party with a company like Red Herring Games.
Another option: You can opt for a costume party—again, in person for residents or virtually to include others—focusing on a decade ('80s! '90s!), or one color (a gold party). "You can have everyone dress up in gold, dress up your apartment with gold decor, and buy some edible gold online to add to your cocktails," says Justine Broughal, founder and lead designer of Together Events in New York City. "It's super easy because it's just selecting monochromatic items." 
Broughal also likes the idea of turning your home into a comedy club: putting up some signage, streaming a comedy special or two, and "going full-on with the cheap tequila."
And "elevated night in" is totally a theme, too! Pull up a YouTube video of a fireplace or fireworks from last year's New Year's (perhaps from the city where you wish you were celebrating) to create ambiance, suggests Jove Meyer, owner and creative director of Jove Meyer Events in New York City. He also likes the idea of breaking out "fine china or silver that you never use and enjoy it" for the night. Set the tone with lighting, which Broughal calls "the cheapest, most high impact" way to transform your space. Think: "a bunch of candles," market lights, or fairy lights, she says.  
Make the menu feel special—without spending hours in the kitchen. 
Whether it's just you at home or you live with a handful of people, choose foods and drinks that feel easy and doable but still festive. 
Meyer advocates for swapping out more standard party platters for bespoke cheese and charcuterie boards. "Instead of a big mountain of cheese and meat, pre-plate two or three beautiful cheese and charcuterie boards," Meyer says. "With fewer people, you can up the quality and the personalization of each dish." Use this opportunity to spring for only hard cheeses if that's your jam, or even make candy charcuterie boards for the kids.
If you'd rather leave the cooking to the pros, "have a smorgasbord of takeout from your favorite places in your neighborhood, so you're supporting small-business," suggests Broughal. "And you can even stagger the deliveries," she adds, explaining that, that way, you can have an appetizer, dinner, and late-night snack.
And just because you're not glamming it up at a big fete doesn't mean you shouldn't get fancy with your drinks! If you go with the sparkly, Meyer proposes dressing flutes up with cotton candy or rock candy on a stick. If you opt for other cocktails, give them names so you're creating an experience as well, recommends Broughal. "[The names] do not have to be related to whatever is in the drink—just a fun name that's special for you or you think is funny," she says.
Bring in music that matches your theme, or even throw a virtual dance party. 
No matter the guest count, music will generate a fun auditory backdrop for the night and make it feel like a true party. Whether you pick tunes that parallel the theme ('80s or '90s lend themselves very nicely to that), or opt for a preset list or station, they should play into the mood you want to create.
If you can't find a Spotify playlist that fits your vibe (Broughal prefers Kitchen Swagger and Mellow Bars), you can of course DIY your own—or you can outsource to a professional DJ to get a sense of being out at a New Year's Eve party, Broughal suggests. They can throw in some original mixes and cater the tracks to your exact taste (no need to hit the "thumbs down" button) for a truly personal touch. 
Also consider throwing a dance party—with the people you live with and/or virtually. "I thought it was going to be awkward but it was so fun!" says Broughal, who attended one earlier this year. "There must have been 20 of us, everyone's on Zoom, you just see everyone's upper body dancing. [Our DJ] featured people throughout the night with certain dance moves. It can be really engaging." 
Broughal's friend, a professional disc jockey (@empanadamn), provided the tunes for her virtual dance party; try reaching out to a local pro for a similar experience. You can also scour the web (Instagram, Spotify, or SoundCloud) to find someone whose beats you'd want to bop to for a few hours and then tell guests to put on their dancing shoes—and make sure they have their webcams on! 
Decide how you want to commemorate midnight.
The big night leads up to the clock striking 12, and even when you're home or flying solo, "it should still be a fun experience," Meyer says. Should you want to mark the moment with something other than counting down to the Times Square ball drop on TV, the experts have a few ideas. After all, why not end an unconventional year in an unconventional way?
Broughal cites many movies that, if timed correctly, will ring in the New Year with a special moment on screen. For example, if you start Ghostbusters II (1989) at 10:27:52 p.m., Dr. Peter Venkman (Bill Murray) will wish you a "Happy New Year!" at midnight; or if you wait until 11:29:57 p.m. to start The Great Gatsby (2013), Leonardo DiCaprio will toast you at 12 a.m. (Twitter users flooded the site with similar scenarios for New Year's Eve 2018.) 
Or hire your household's favorite celebrity to do the honors by getting a custom, prerecorded New Year's Eve message from them on Cameo. "You can gather people around for a toast and have whoever it is that you like pop in," she says. 
Meanwhile, Meyer enjoys giving "the celebration a physicality," he says. "So whether that's a cheers or [eating] a special food, I think you have to mark the moment with some kind of physical item." 
And West typically throws a midnight dance party. "We think of the top song that's everyone's favorite; we have that queued up, and leading up to midnight, everyone reflects on the year," she says. "As soon as you do the countdown, toast up and play that song. What better way to start the year than dancing and laughing and singing?"
The Home for the Holidays vertical was written and edited independently by the Apartment Therapy and The Kitchn editorial teams and generously underwritten by Cointreau.