The Surprising Thing You May Not Know About FHA Loans
We
independently
select these products—if you buy from one of our links, we may earn a commission. All prices were accurate at the time of publishing.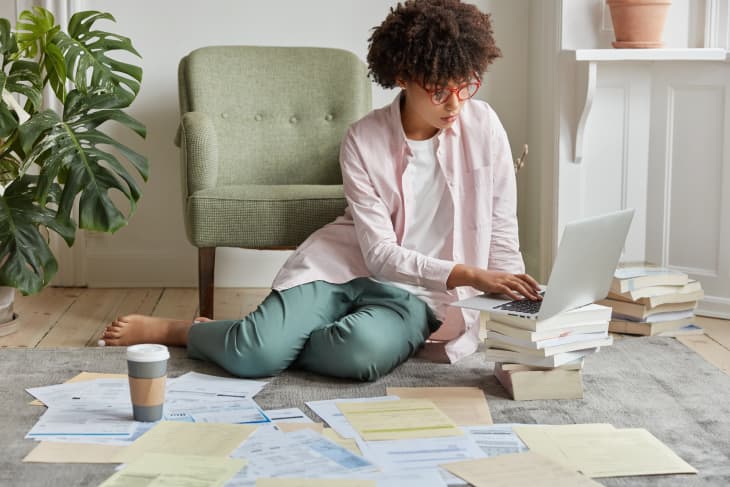 FHA loans are a popular path to homeownership for many first-time buyers because they tend to have low down payment options and lax credit score requirements. In fact, according to the Federal Housing Authority, first-time homebuyers comprised 83 percent of FHA home loan borrowers in 2019.
But there's a contingency that first-time buyers might overlook when they're wrapped up in the excitement of buying a home: If you put anything less than 10 percent as a downpayment with an FHA loan, you'll be required to pay FHA mortgage insurance for the entire loan term. On the contrary, with conventional mortgages, your Private Mortgage Insurance (or PMI) payments are canceled once you build up enough equity in your home. (A quick primer for the uninitiated: Mortgage insurance protects your lender should you default on your home loan).
"When you put less than 10 percent down on an FHA loan, the monthly mortgage insurance payment is similar to a marriage: You're stuck with it until you get a divorce," explains Holden Lewis, home and mortgage expert at NerdWallet. "In this case, divorcing your FHA loan means refinancing into a conventional loan."
If you're in the market for a mortgage, knowing the terms of mortgage insurance, and how it differs between FHA loans and conventional loans, will help you compare loan products and determine what's best for you. Depending on your loan terms, annual Mortgage Insurance Premiums on FHA loans can range from 0.45 percent to 1.05 percent. Most borrowers who use the FHA loan program choose the 30-year repayment term and put down 3.5 percent, which means the majority pay an 0.85 percent annual premium. As an example, on a $250,000 loan, the monthly mortgage insurance cost would cost nearly $100 a month.
If you already have an FHA loan—and you have at least 20 percent equity in your home—you may want to consider refinancing, as you could potentially lower your monthly mortgage payments by no longer paying mortgage insurance. If you're looking to drop your Mortgage Insurance Premiums on a FHA loan, you do need to refinance to a non-FHA loan, explains Phil Georgiades, chief real estate agent with FedHome Loan Centers.
There is an exception, though, when it comes to canceling mortgage insurance. For FHA loans that were closed after Dec. 31, 2000, or which were applied for prior to June 3, 2013, Mortgage Insurance Premiums can be canceled once the borrower hits a 78 percent loan-to-value ratio, Georgiades explains. It's the FHA loans applied for after June 2013 that require those with less than a 10 percent down payment to refinance later on if they wanted to drop the mortgage insurance. 
For those who made more than a 10 percent down payment, they're only required to have mortgage insurance for the first 11 years of the loan, Georgiades says.
Of course, the low down payment option of FHA loans is a draw for many homebuyers, especially those who are entering the housing market for the first time and don't have equity from a previous home sale to put into a down payment. With FHA loans, your down payment can be as low as 3.5 percent if your credit score is at least 580. 
According to a report from the National Realtors Association, the median down payment on homes in 2019 for all buyers was 12 percent. For first-time buyers, it was 6 percent. A quarter of first-time home-buyers used an FHA loan to purchase their homes, likely taking advantage of the low down payment programs, according to the National Association of Realtors.
If you're shopping for a home, check out the best mortgage advice one real estate agent has ever heard.