This Adorable Plush Toy Will Teach Kids How to Meditate
We
independently
select these products—if you buy from one of our links, we may earn a commission. All prices were accurate at the time of publishing.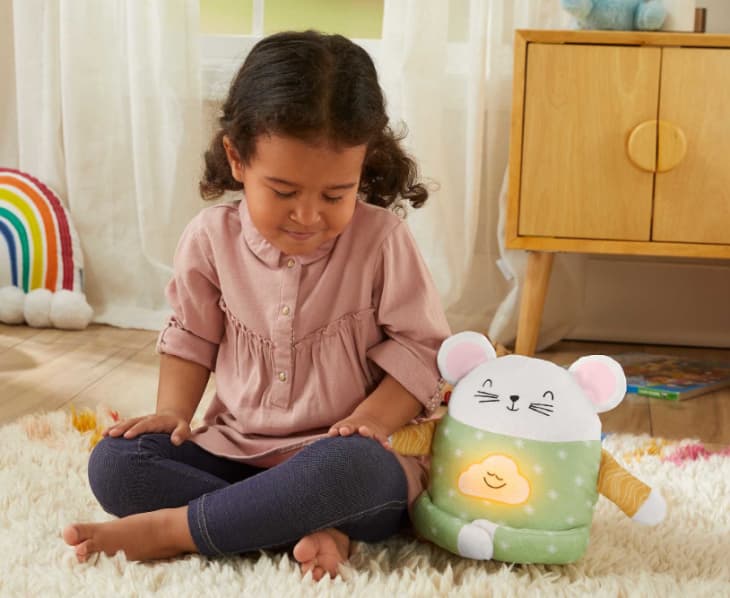 If you've been looking for a new way to relax your little ones, why not try them with something that's fun to play with AND will teach them healthy habits?
Fisher-Price has released an adorable stuffed toy that will calm them down through a range of gentle guided meditations through physical prompts and breathing exercises to help them unwind during the day and before bedtime. Named the Meditation Mouse, the plush aims to sooth and relax little ones — and parents — with its innovative features and lovable design. The engaging prompts include a daytime relaxation session, night time sounds mode, and a three-part bedtime wind-down exercise to ensure each part of the day is covered, making the snuggly toy a go-to at any time. Additionally, a soft light gives off a soothing glow, aiming to further comfort the child.
The Meditation Mouse was crafted by observing families with children ages 2-5 years old on-site and in-homes engaging in meditation and mindful exercises. Takeaways from the study led to the creation of the following three stages:
Stage 1: Guided Meditation – Physical prompts with music to settle the child's body
Stage 2: Guided Breathing prompts – Simplified ambient music to settle the child's mind
Stage 3: White noise, nature, waves, simplified ambient music to settle the child to sleep
Each of the stages keep little ones engaged and entertained while teaching all-important wellness techniques that will prove useful for their development. While the toy has been designed with toddlers and pre-schoolers in mind, it will also serve as a great tool for older children who want to keep practicing relaxation methods.
"My 4 year old LOVES this little mouse!" wrote one Amazon.com reviewer. "When she is having big emotions she knows her mouse can help her relax!"
"Seriously a game changer if you have a newborn… [the Meditation Mouse] instantly comforts my little [one]." said another.
The Meditation Mouse is currently priced at $22.49 on Amazon.com and Walmart.com.