A Home Stager, Contractor, and Real Estate Agent Explain How They'd Fix an Outdated Front Door
We
independently
select these products—if you buy from one of our links, we may earn a commission. All prices were accurate at the time of publishing.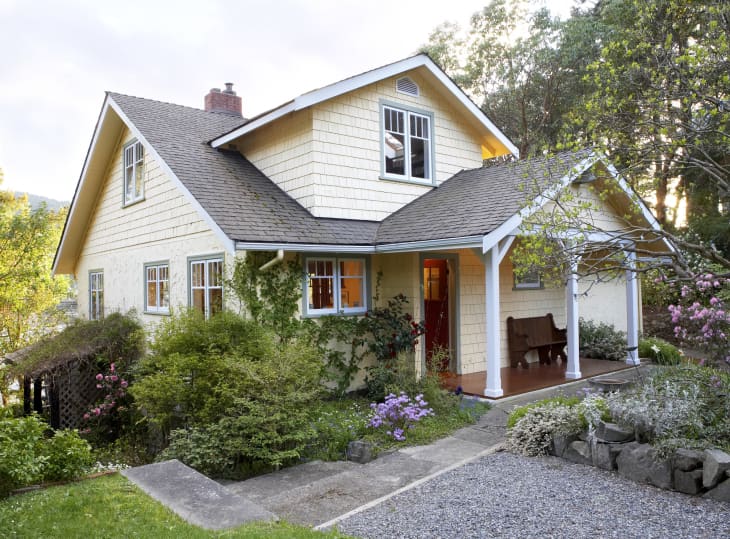 Knock, knock… who's there? It's your front door signaling that it's in need of an upgrade. Updating or replacing a lackluster front door can be a quick and easy upgrade to change the look and feel of a home. 
There's really no one-size-fits-all approach to handling the project. Looking through the lens of a home stager, contractor, and a real estate agent, it's easy to see that depending on your budget, the type of door you renovate, or whether you're confident with DIY projects, you might be surprised that the completed project will pay back the most in happiness.
A little bit of creativity goes a long way.
"From a staging perspective, there are some straightforward and impactful ways to update a front door," says Kati Baker, a luxury home staging specialist at Chicago-based Downtown Realty Company. "A fresh coat of paint is the first step and will make the most obvious difference. Don't be afraid to get a little creative!"
From there, move on to what Baker calls "the jewelry." She recommends updating entry hardware such as handles and locks in a contemporary finish. "A beautiful doorbell and a whimsical door knocker in a metal that matches your new entry hardware will take everything to the next level," says Baker. "If your mailbox is adjacent to your front door, make sure to update that as well."
For the finishing touches, Baker suggests incorporating elements that express your personality and taste. She says, "Hang a seasonal wreath on the door, add a new doormat, and accent with a fresh potted plant beside the door."
Restore, replace or rebuild.
As one would expect, Tom Silva, a contractor notable for his long-running participation on the PBS shows "This Old House" and "Ask This Old House," prefers to restore old doors. 
He explains, "On the older houses, they have these charming old front doors that are in some cases 100 to 150 years old, and they get tired over time. But a lot of people don't want to get rid of them because they love the charm of the old door. What I have done for the show a couple of times, but also on projects unrelated to the show, is I take the door and rebuild it."
"I'm always a fan of whenever I can save something, I'll save it," says Silva. He gave as an example a four-panel exterior door with glass above it. "Over time, the doors have a tendency to sag or maybe the joint has broken free. Take the inefficient glass out and put in insulated glass to make it a little more efficient. Take the moldings off, and now you have access to the panels. Glue the door back together, and refinish it with a new veneer."
Create a welcoming front entrance.
Anne-Marie Wurzel, a Florida real estate agent, believes sellers shouldn't take it for granted that buyers will accept a home's flaws in a competitive market. She says little touches like a fresh coat of paint on an outdated door and a welcome doormat play a crucial role in a guest's first impression of your abode. 
"Even though houses are selling so quickly in this market, it's still important to show that the seller cares how their home is presented to a potential buyer," says Wurzel. "For an outdated front door, I would paint it, update the hardware and also spruce up the area right around the door, perhaps with a new welcome mat and two freshly potted plants. That way, the overall impression is positive, and the money spent by the seller is minimal."