The Dangerous Truth About Floating Staircases, According to a Home Inspector
We independently select these products—if you buy from one of our links, we may earn a commission. All prices were accurate at the time of publishing.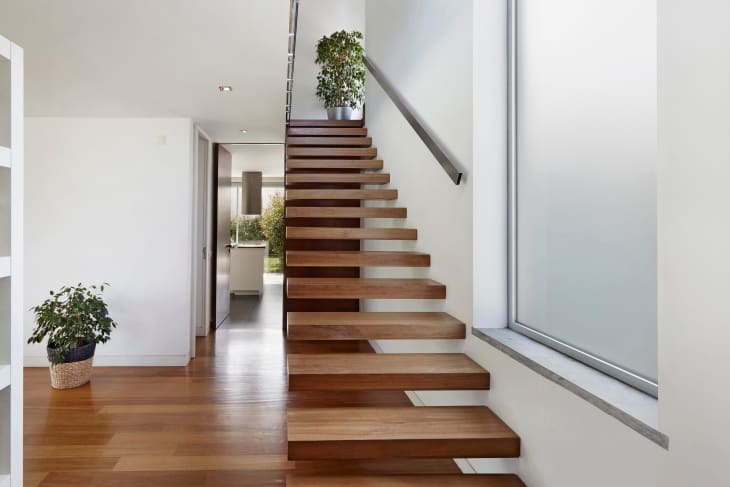 Certain design elements tend to become hallmarks of a specific style. For example, Victorian homes are known for their decorative woodwork and gabled roofs, and contemporary houses often contain floating staircases. However, you may want to think twice before installing or purchasing a home with the latter. Although these functional steps add interest and open up a space that could be boring otherwise, open-air staircases may not be the safest option. 
Follow Topics for more like this
Follow for more stories like this
If you've ever traversed a floating staircase late at night or in the morning before your first cup of coffee, you've probably experienced an uneasy feeling while going up or down. And that anxiety quickly compounds if there isn't a handrail to grasp. But are you just apprehensive, or are there real safety risks involved with floating staircases? Here's what two experts have to say. 
"Floating staircases are indeed lovely, and they add character to a home," says David Clark, who has been a personal injury lawyer for over 35 years. "However, their design is potentially dangerous, especially to children and the elderly." Of course, any staircase can be perilous as someone can easily lose balance or footing. However, open risers mean it's more probable that feet can slip into the negative space. 
The pursuit of minimalism just may not be worth the risk, especially if the design lacks safety rails. "There are also designs without handrails, just to maintain the floating illusion, which adds to the possibility of a fall," adds Clark. 
Clark has also dealt with many slip-and-fall cases that involve open-riser staircases — most of which were poorly designed and had issues with faulty or missing handrails. Uneven step height and depth are also common construction flaws, which can cause a range of grievous harms. "People who slipped and fell from staircases often suffer from varying injuries, such as ankle injuries, broken bones, slipped discs, and head injuries," Clark recounts. 
Casey Callais is a home inspector and feels that what is considered a contemporary designer's dream is potentially a home inspector's nightmare. In fact, many open-riser staircases tend to bend the rules of building codes in their construction. The codes are particular and include regulated measurements with a mandate that stairs with four or more steps must have a handrail. 
Why so many rules? In this case, the past dictates the future, according to Callais. "Many people don't realize the building codes, especially the stair codes, are a result of changes made after reported injury and death," he says. Over 1 million reported stair-related injuries occur annually in the United States, although those numbers are not solely due to floating steps.
Although that statistic seems bleak, Callais and many other home inspectors are doing their part. Last year, Callais was responsible for the final construction inspection on a high-dollar home that included a floating staircase without a safety rail, meaning someone could fall 11 feet onto a marble floor. A dangerous decision for the sake of aesthetics wasn't something Callais could get behind. "That could break their leg if they are lucky, neck if they are not," he reveals. "Needless to say, that deficiency held a prominent place on my report."
Clark also notes other factors to consider if your heart is set on open-riser steps, such as how much weight it can hold. "Make sure that your floating stairway can support the weight of multiple people," he advises. Additionally, you and your builder should consider how slippery the steps could be. "There aren't any specific requirements for it, but it's crucial for you to choose a material according to its slip factor," says Clark. That's where a handrail coupled with a high-traction surface can save someone from injury or, worse, a fatal fall.