This Gorgeous Glass Trend Has Made Its Way to Shower Doors, and I'm Here for It 
We independently select these products—if you buy from one of our links, we may earn a commission. All prices were accurate at the time of publishing.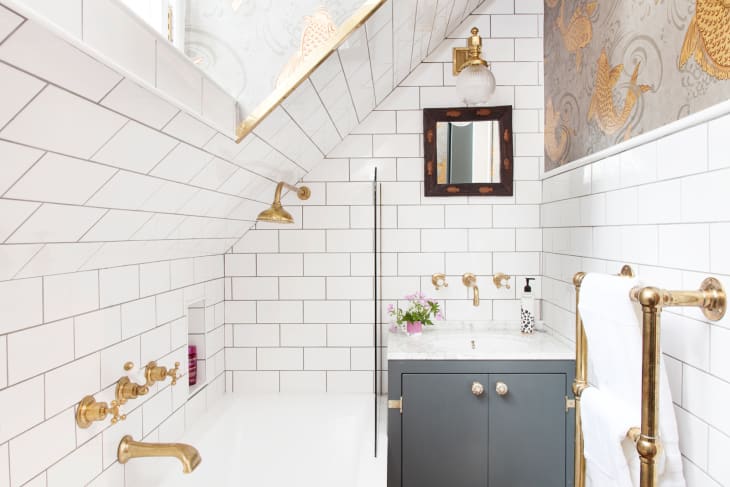 After almost 10 years of living in rentals, I've spent a lot of time thinking about the permanent finishes I'd like to have in a house of my own. I'd certainly look for a home with original details like crown molding (or might add some to a new build), and I've been coveting statement backsplash tiles for years now. Wide plank wood flooring would be a dream. One area I'm exceptionally particular about: the bathroom. I've seen some pretty gnarly bathrooms — from grout and caulking gone wrong — to super-cheap finishes, outdated plumbing, and more, so I'm always taking mental notes when I see a beautiful bathroom feature I might want to implement in my one-day home.
"I thought carefully about how to strike the right balance between classic and contemporary in each room," Williams says, and that she did here. "In our bathroom — which, at 45-square-feet, is relatively small — we opted for a more contemporary layout with a double shower and shower blade to create a sense of space. But within that, we have chosen character features such as period pedestal basin and brass tapware from the British company Perrin & Rowe. The hex Carrara marble floor tiles were inspired by the Art Deco apartment, which we lived in when we were in California." She truly struck a beautiful balance between the old, which you see in the sink, tiles, and faucets, while that striking glass partition feels modern in its overall form but a little vintage-inspired in terms of the fluted texture. It almost harkens back to old world wavy glass.
Practicality speaking, the floor in the bathroom has almost certainly been pitched at an angle so that water properly flows down the drain instead of into the sink and toilet area, precluding the need for a traditional shower or tub basin. Plus, the convex grooves on the fluted glass (different from reeded glass, which has concave grooves) provide a bit of privacy should more than one person need access to the bathroom at the same time. Oh, and bonus points for tying the whole design together by re-fitting the door with fluted glass to match the shower divider. Yep, this bathroom is definitely one for the Pinterest boards!