Fresh Kids Room Color Combo: Green & Orange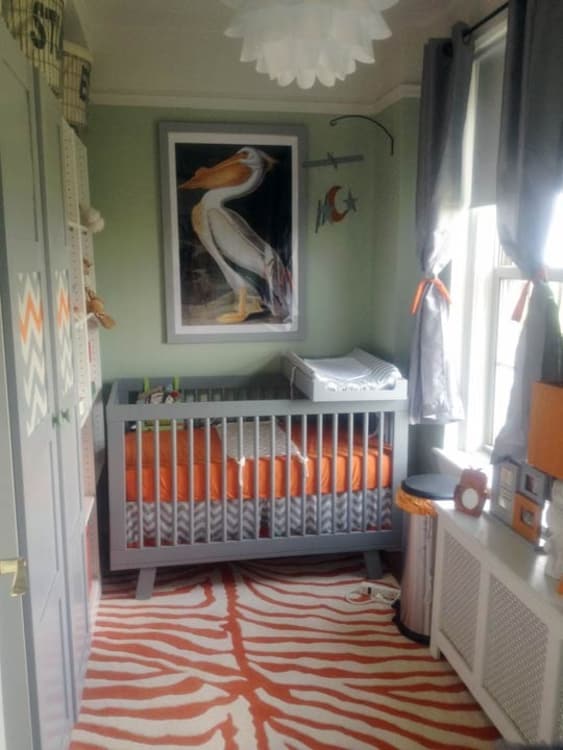 I'm a big fan of less common color schemes, and I love bold color in nurseries and kids bedrooms. In honor of color month here at Apartment Therapy, I rounded up some fantastic spaces featuring a relatively underused color scheme: orange and green.
TOP ROW
1. This "Small Space Nursery Triumph" is tiny, but the mix of patterns lends it lots of personality and the soothing sage green and carrot orange are balanced by the neutral greys and whites.
2. This modern nursery by Elizabeth Kimberly Design uses orange and green in the wall mural as a focal point.
3. Kerissa Maddocks achieved a mod, 1960's vibe in this owl nursery in orange and green.
4. EJ's Nursery on Apartment Therapy also uses orange and green to support an owl theme.
5. This ONDO model room from German company Paidi uses pastel versions of orange and green for a more subtle effect.
BOTTOM ROW
6. Another Owl Nursery from user orangepuddleduck on Project Nursery uses deeper tones of orange and green.
7. A green and orange bedspread was the color inspiration for David's Bedroom shared by Apartment Therapy readers. Orange was their son's favorite color and they combined it with green to add depth.
8. Marlowe James' room, which we featured here, started with the green glider as inspiration, and then came the bold orange walls.
9. Judah's Colorful Nursery byRachel Sweerin features several different colors, but the orange pouf and green rug stand out as focal colors.
10. Ezra's Animal Kingdom room is nature inspired making a green and orange combo a logical choice. The green walls are meant to remind one of a forest.
(Images: as linked above)