Move Over Hygge, This Austrian Word Might Be the Real Key to Happy Living in 2018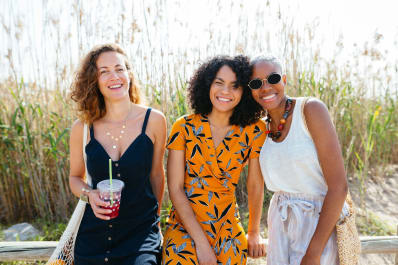 (Image credit: BONNINSTUDIO/Stocksy)
Move over, hygge. There's a new unpronounceable #lifegoal in town for 2018, and though it does have some roots in Scandinavian tradition it's now the Austrians who are claiming they have the real secret to happy living—with gemütlichkeit.
According to the Oxford Institute, gemütlichkeit is a German-language word that sums up as "quality time" and is used to convey the idea of a state or feeling of warmth, friendliness, cordiality, and good cheer. Other moods encompassed by the Austrian phenomenon include coziness (like hygge), peace of mind, and a sense of belonging and well-being springing from social acceptance.
How exactly does gemütlichkeit differ from hygge? Oxford has an in-depth comparison of the two philosophies in its Happiness Index study, and here's also this more succinct example from the German Language Blog at Transparent:
A soft chair in a coffee shop might be considered 'cozy'. But sit in that chair surrounded by close friends and a hot cup of tea, while soft music plays in the background, and that sort of scene is what you'd call gemütlich.
If you got together with friends to watch the Royal Wedding over tea and scones or coffee and croissants (and mimosas) this past weekend, that would be another excellent example of gemütlichkeit, says this explainer video from Journy:
"Hygge was so 2016. The new key to happy living is Austrian."
And an emphasis on "quality time" as the secret to happiness "through a sense of belonging" couldn't have come at a better time. A study released this week by The Economist shows that heavy users of Instagram feel the most miserable, depressed, and isolated with the most FOMO (fear of missing out), of any other social media channel on the internet.
The link between heavy social media use and decreased wellbeing is being quantified more and more, providing us with even more reasons to put down our phones, close up our laptops, and get out and socialize with friends and family IRL (in real life)—or practice some good old-fashioned Austrian gemutlichkeit.
Another reason to embrace gemütlichkeit, especially in the age of comparison-stealing joy from heavy use of Instagram and Pinterest? Gemutlichkeit can also be a feeling of contentment with what you have, versus being ashamed by or insecure or unhappy because of what you don't.
The German Language Blog at Transparent also says:
Another, less common meaning refers to the comfort of a well-off, middle-class life. In short, it refers to the comfort of an atmosphere or situation more than it does to the comfort of physical objects.
Just one more reason to preserve America's middle class. And also to believe that those digital-native millennials may be on to something, more than just a passing fad: Does the true key to happiness really lay in valuing experiences over things? But how to find friends to hang out with IRL for "quality time" if you're feeling disconnected, or are literally disconnected as a transplant in a new city?
In a dose of irony for this story—or a match made in shared aesthetic heaven—more and more people have found that reaching out to people they admire on Instagram (but don't yet know in real life) and suggesting meeting up for coffee, photo walks, drinks, exercise, etc. can create new close friends in the process.
I can verify firsthand that this can truly work, platonically: My closest friend since moving to Austin in 2013 is someone I knew first through Instagram, and took the leap of faith to ask her out on a "blind girlfriend date" for some gemutlichkeit, talking about our shared love of vintage, greyhound rescue, and good books over tapas one evening. Now, we get together regularly and our husbands are even close friends—the four of us celebrated my birthday this year with wine, pizzas, and a 1,000-piece puzzle at home. It was one of the best birthdays I've ever had.
Regular People Attempt Tricky Décor Terms