This Haunting Halloween DIY Will Upgrade Your Roomba
We
independently
select these products—if you buy from one of our links, we may earn a commission. All prices were accurate at the time of publishing.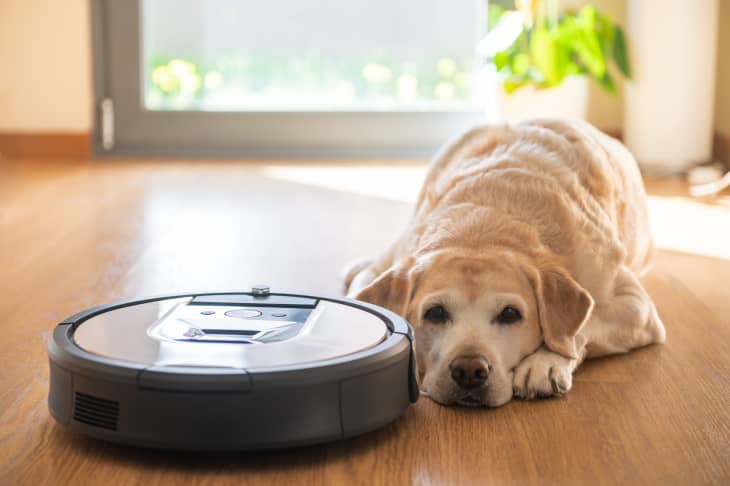 Throwing a last-minute Halloween party can be an affordable way to safely celebrate the holiday with your ghouls, plus your bed will be a walk away in case you boooooogie too hard. In case you're still adding some final decorative touches to your home for a Halloween party (or just to celebrate the spooky day), this subtle idea might be a haunting addition to your space. But don't worry — it won't actually haunt you.
Jackie Michelle (@jtravs) shared an Instagram Reel of a friendly ghost that is slowly roaming around her living room, and you won't believe how she did it. 
The ghost appears to be floating across the room, but it is obvious that it's attached to something gliding on the floor. Spoiler alert: it's a Roomba. The cordless, robotic vacuum is simply doing its job, so why not add a little holiday cheer onto it to fit this Halloweekend. Besides the floating ghost, Michelle has a charming amount of Halloween decor like pumpkin fairy lights and even more ghosts that complement this cozy time of the year.
Although this ghost doesn't have a name, the comment section suggested titles like "R2-D-Boo" or "Boo-mba," and you totally have an excuse to name (or dress up) your Roomba. Others are humored by the Casper-looking ghost but fear that it would accidentally scare them later. "I love this but I KNOW if I did something like this it would startle the hell out of me at least three times a day," someone commented. And they're right — can you imagine seeing this thing in the middle of the night?

In case you decide to dress up your Roomba, keep an eye out for a similar lightweight item that won't need to be plugged in. Even though Halloween is around the corner, you can plan early for Christmas and find an elf or reindeer that'll do all of your cleaning (and gifting). Happy Halloween!