This Editor-Recommended Ladle Is My New Favorite Kitchen Tool — and It Costs Under $15
We
independently
select these products—if you buy from one of our links, we may earn a commission. All prices were accurate at the time of publishing.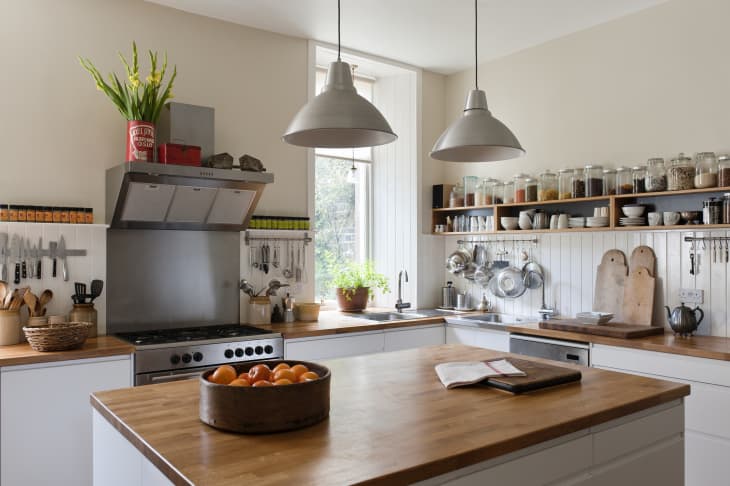 No matter how many new kitchen gadgets, tools, and appliances we try, there are always a few favorite items that just can't be beat. That's why we're so excited that our sister site, Kitchn, just released its annual Kitchn Essentials: Tools Edition for 2022, which includes several repeat winners, like the recycled plastic cutting board so many editors own, the Ina Garten-favorite pepper mill, and the must-have sheet pan that lives up to its stellar reputation. So, it's only logical that when I was looking for a new ladle for my kitchen, I went directly to our list of favorites to guide me. I am happy to report that the editor-recommended silicone GIR Ladle has become one of my most prized kitchen tools after just a few uses.
Up until this point, I'd only ever owned a stainless steel ladle and was all too familiar with having to awkwardly tilt a heavy pot to scoop out the remaining food or lift it to pour it into the bowl, which usually resulted in splatters on my counter. This GIR Ladle, however, is made of soft, sturdy silicone that's also pharmaceutical grade and heat safe up to 500 degrees, so you can feel confident using it on the stovetop and putting it in the dishwasher. And not only is it incredibly flexible, but it can even hold 3/4 cups of liquid.
Our editors heralded this GIR Premium Silicone Ladle for its cool colors, the measurement markings on the inside of the bowl, and its ability to scoop every last drop of soup out of the pot. Now, I'll be honest that I didn't put too much thought into that last aspect when I purchased the ladle — I really was just in need of one! — but I was mesmerized when I was scooping soup out of the pot and into a container to put in the fridge. I didn't need to lift or tilt the pot once I reached the bottom because this ladle bends so that it can get every last drop with zero extra effort from you.
The silicone is also extremely sturdy, so when you're scooping out the last bits of soup, stew, or sauce, it maintains a hard edge. It also resists stains, odors, and microbes and doesn't give off an unpleasant taste like some silicone utensils do when you're cooking or serving food. Plus, it's easy to store if you use a utensil crock or wall hanging. I use the hole at the top to hang the ladle with the rest of my kitchen tools on a wall rack.
It is a large ladle, so if you're not in the market for one of this size, try the GIR Skinny Ladle that holds 1/4 cup of liquid instead. While you can buy them directly from Pattern Brands, you can also find these ladles on Amazon and Food52. There's also a host of other GIR tools to check out, including the adorable new GIR Baking Kit.
Even though soup and stew season is coming to a close, I'm excited to have this ladle in my kitchen tool rotation. I'm looking forward to using it for serving fun spring and summer punches, especially with the pretty teal color I purchased!