Ina Garten's Been Breaking this Major Dishwasher-Loading Rule for Years
We
independently
select these products—if you buy from one of our links, we may earn a commission. All prices were accurate at the time of publishing.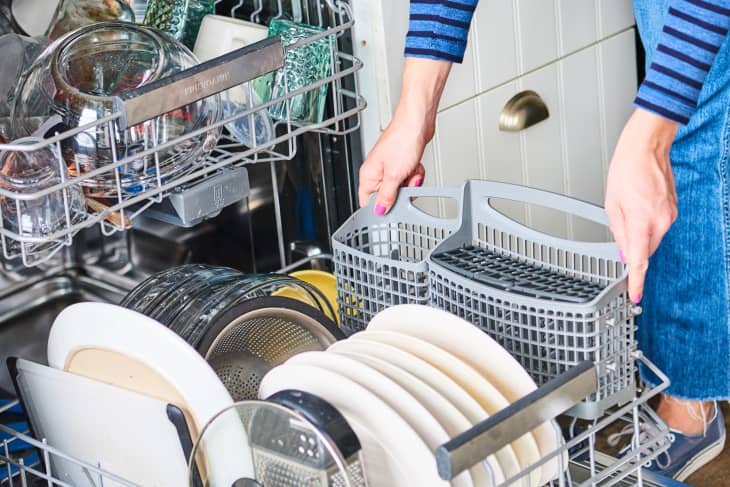 When you first move into a home with a full suite of kitchen appliances, you might have to learn dishwasher rules the hard way. I once woke up to a 3-foot-deep foam party in my college apartment's kitchen after accidentally adding dish soap to the dishwasher. (By the way, here's a tip I hope you never need: salt helps suds die down faster.)
On the other hand, some pieces of dishwashing advice don't have such instant and obvious consequences. Those rules—like how you shouldn't put knives or wooden tools in the dishwasher—get passed down from generation to generation like unbreakable laws, lest you want to irreversibly ruin your cookware… you know, someday down the line.
Well, Ina Garten is here to prove that rules are meant to be broken. In an Instagram post on Saturday, she showed us a peek at the her clean dishwasher load, revealing a few forbidden items that just took a spin—seemingly unharmed: a wood-handed spatula, an All-Clad pan, and a Wusthof chef's knife.
Commenters were quick to notice, asking Garten for her expert take. Can you really put this stuff in the dishwasher? We've all heard that the high temperature inside dishwashers can warp or dry out wooden tools and ruin non-stick coating, and the high-pressure water can knock around your delicate knives, ruining their edge.
"EVERYTHING goes in the dishwasher!!," Garten replied in an Instagram comment on her post. "My assistant used to put the bird cage in the dishwasher (she took the bird out first)." (Garten later clarified in a follow-up comment: Everything, except cast iron pans.)
The All-Clad pan in Garten's dishwasher picture looks like this 15-inch lasagna pan, which Amazon notes is dishwasher-safe. And when it comes to wooden and wood-handled tools, some are perfectly fine taking spins in the dishwasher—it depends on the manufacturer. (And you probably want to coat them with mineral oil afterwards.)
But when it comes to knives being dishwasher-safe, other cookware experts aren't on the same page. Josh Moses, co-founder at the kitchen essentials company Misen, once pleaded to Kitchn readers: "Please, please do not put your knife in the dishwasher."
"The high temperature and moisture of the dishwasher can seriously damage both the steel and the handle," explains Moses. "The water jets in the dishwasher can cause the knife to knock into whatever else you have it in the dishwasher with, and can damage the edge. It's a good way to ruin a knife quickly."
But Garten has been breaking this particular rule for years. ("I do it many times a day and some of them are 40 years old!") So if you're sick of hand-washing knives, just know that you have the Ina Seal of Approval. Just be careful when you're unloading.