How Grace Bonney Spends a Perfect Night In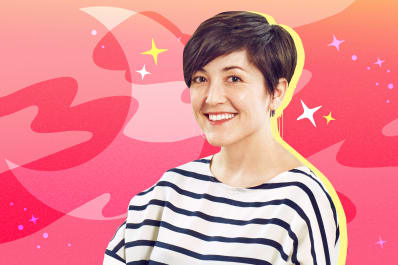 (Image credit: Christopher Sturman)
Perfect Night In is a series where we ask actors, artists, entrepreneurs, and beyond how they'd spend the ultimate luxury—a blissful evening at home.

If you're a longtime fan of Grace Bonney's lifestyle blog, Design*Sponge, you're in good company. In fact, the author recently launched a print magazine and a podcast called just that: Good Company. Described as the intersection of creativity and business, the publication (and its sister podcast) are a continuation of the work she started with her 2016 New York Times bestseller, In The Company of Women, where she gathered advice and inspiration from 100 female makers, artists, and entrepreneurs.
The second print installment of Good Company, the Fear(less) Issue (on newsstands Tuesday), is 180 pages of "[talking] openly about the things that scare us," because "fear and failure are part of everyone's journey." And while fear is a necessary part of life, Bonney's perfect night in is all love. She dishes on her favorite reality TV, what game she's obsessed with, and what her chef wife Julia Turshen is cooking up below.
Set the scene
Your perfect homebody scene in 5 words: RuPaul's Drag Race + Brownies + Family
Are you alone or with someone else? Always Julia (my wife) and always our pets (Our dogs, Hope and Winky, and our cat, Turk).
Night-in uniform: Something comfy and soft that will entice Turk to sleep in my lap. If I'm going I'm going full "night in," I'll probably have a whacky patterned sheet mask on my face.
What two people, dead or alive, would you let crash your night? We have two close friends, Lacey and Amelia, who are always welcome in our home any time, no questions asked and no calls needed. But in general, our home is a place we feel so lucky to have that it's always open anyone in our lives that want to stop by or need a place to stay or heal or relax. But if it was a dream world and anyone could stop by? I'd love to invite Aquaria, the current reigning queen of RuPaul's Drag Race, to come by and do my makeup while we all binge watch old episodes together.
Favorite cozy product: My mom got us these cozy fleece blankets from the Company Store for Christmas a few years ago and we all fight over them every night. Usually the dogs win. I can't say no to their cute faces. But when I get to them first it's like cuddling up with a cloud.
Now playing
TV or a movie? Julia and I like very different types of movies, but we overlap when it comes to guilty pleasure TV and design programming. So we'll usually have something from Bravo on—or an old episode of Nate and Jeremiah's show (our favorite).
What are you watching? These days we're really into relaxing and watching The Real Housewives of Dallas. When our work lives feel a little too stressful, it feels good to remember that at least we aren't warring with the Dallas elite over something like a fancy hat party.
eBooks or the real deal? Real deal. ALWAYS. Most of my friends and family work in or have committed their life's work to print publications of some type, so I'm always in favor of the real deal.
Currently reading? Right now I'm reading through and soaking in the second issue of our new print magazine, Good Company. I rarely get to sit down and actually appreciate the projects we put out into the world (because I too often have an "on to the next one" mentality) so I've been really trying to hit pause and enjoy the issue. I've always been reading through and loving The Riot Grrrl Collection, which is an amazing look at zines of the '90s.
Silence or music? If we aren't watching something on TV (we have a soft spot for the Real Housewives franchise), we're playing dueling Pandora stations. Julia's is always on "Dinner Party Soul" and mine is something clubby and silly to dance to.
Board games, yay or nay? Julia and I have become Bananagrams evangelists. We bought my parents the game to keep at their house so we could all play together when we visit. That's how much we love playing. It's the perfect portable game and it makes me feel like I'm using my brain more than when we relax by watching TV.
What's cooking
Order in or cook for yourself? I'm married to someone who writes about (and cooks) food professionally, so eating at home is better than just about any restaurant. Julia always finds a way to make healthy food (I have Type 1 Diabetes so my diet can be a bit strict) feel comforting.
What are you eating? I love when we make zoodles with Julia's recipe for Turkey Meatballs. It's comforting, delicious and feels as close to carbing-out as I can really get with Type 1.
What drink are you pouring? I don't drink, but Julia loves a Coronita (those tiny-sized Corona beers). I usually crack open some sort of flavored seltzer.
What's for dessert? Anything chocolate, always. My first choice is always some sort of brownie splurge, but right now Julia and I are really into the super thin Tate's double chocolate chip cookies.
Late night snack? Cereal for Julia, anything chocolate for me.
Take care
Do you have a self-care ritual? I do. It is 100% about skincare. That's my thing. It makes me feel like there's this one tiny part of the world I can have some sense of control over. My night routine has a few steps and usually involves sitting for a 20-minute mask, which is when I try to sit in a bit silence and unwind.
What do you try to avoid at all costs? On a night in, I try to avoid my phone as much as possible. I have a medical device (a continuous glucose monitor, or CGM) connected to my phone, so I can't step away from it entirely, but we both try to log out of email, social media and any other app that might take away from us being present together.
Candles, yay or nay? Nay. I'll take a dimmer over a candle any day. But maybe that's because we have a cat who is prone to singeing off his own whiskers by getting too close.
Face masks, yay or nay? Yay all the way. I'm really into this brand of Korean sheet masks I buy at H Mart in Paramus, New Jersey. I can't read anything on them except the word "pearl" and they have a rose on the front. They smell so nice and they force me to unplug a bit an lay down and zone out while I wear them.
Bubble bath, yay or nay? Yay to drawing one for Julia. I overheat too quickly in them for some reason, but they're her favorite, so I'm a fan of doing a face mask and hanging out with her while she takes one. We talk about the day or listen to a podcast together.
Chores, yay or nay? On a night in? Nay! But on a regular day, yay. We divide up chores around the house (Julia is generally much neater than I am) and most of mine revolve around the pets. But taking care of them is my favorite thing, so I'm happy to do those chores.
Ideal bedtime? I naturally fall asleep around 9 p.m. on the couch. Julia's a night owl, so I usually wake up around 10 p.m. and we head up to bed. In an ideal world I'd be ready for bed by 8 p.m. so I could just get into bed at 9 and sleep, but that rarely happens. Usually I crawl up the stairs half-asleep around 11.
Thanks, Grace! Issue 2 of Good Company Magazine is available today, October 16.
Apartment Therapy supports our readers with carefully chosen product recommendations to improve life at home. You support us through our independently chosen links, many of which earn us a commission.