See Inside a One-of-a-Kind Home Made from Grain Bins
We independently select these products—if you buy from one of our links, we may earn a commission. All prices were accurate at the time of publishing.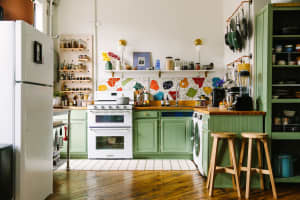 Can't-Miss House Tours Straight to Your Inbox
Keep up with our latest house tours each weekday with our House Tour of the Day newsletter
Name: Chris and Noel Clayton, their kids, and lots of pets
Location: Adrian, Missouri
Size: 3,200 square feet
Years lived in: 4 years, owned
Chris and Noel's home seems like an episode out of HGTV's "You Live in What?" The entire house—including the grain bins, but also much of the building material and fixtures—was sourced from secondhand places like estate sales, auctions, and yep, even dumpsters. The home is a practice in sustainability and frugality and is a DIY dream; it took two and a half years and cost around $80,000 to build.
Chris and Noel built the entire home themselves, helped in huge part by Chris' carpentry background—he's a union carpenter with over 25 years of experience in his field. Most of the artistic repurposed pieces are things Chris has dreamed up, such as the staircase made of welded metal tools. The home is built out of two grain bins, which were purchased at a farm auction and placed on the Claytons' property.
The couple have now expanded their secondhand nature into an antique store in the town of Adrian, Missouri, where they live. The store is called Recycled Homestead, named after the blog they wrote about the building of their home. The store is built on the property of an old lumber yard, and will repurpose those spaces, and also features their now-signature grain bins. The Recycled Homestead store was built as a creative endeavor for the couple but also as a place for their daughter, Abi, to work as she approaches adulthood, as she has special needs and there weren't many career programs for her in their rural area.
Apartment Therapy Survey:
Inspiration: We love to reuse old materials mixed with new.
Favorite Element: Reclaimed barn wood.
Biggest Challenge: Having round rooms, where the grain bins are.
What Friends Say: People are amazed at the creativity.
Biggest Embarrassment: The number of animals that live in the house with us. Six dogs, four cats, and right now, a litter of puppies that numbers eight.
Proudest DIY: The whole house. We did all of the work for the house, except the electric. It took us two and a half years to build it but it was worth it.
Biggest Indulgence: The new bedroom set.
Best Advice: Pay for it all ahead of time! Buy at auctions, Craigslist, estate sales, antique stores—there is beautiful, well-made stuff sitting around collecting dust!
ENTRYWAY/LIVING ROOM
Barn Wood — Torn out of an old barn a few miles away
Tin — From same barn
End table — An repurposed old coal-heated chicken brooder
Entertainment center — My grandmother's buffet
Church pews — Auction
Art — Welded from old hand tools
Carpet — Garage sale
Couches — Justice in Lebanon, Missouri
LIBRARY/OFFICE
Bookshelves — Auction
Blueprints — From University Club of KC liquidation auction
Desk — From University Club of KC liquidation auction
Chairs — Garage sales and auctions
Record Player — Rescued from the trash
Secretary Sesk — Estate sale
Camel Saddle Foot Stool — From Turkey, when Noel's grandparents were stationed there
Rug — From Turkey, when Noel's grandparents were stationed there
Bookshelf — Made by Noel's grandfather
MASTER BEDROOM
Bed — Home, Sweet Home in Butler, Missouri
Dresser — Home, Sweet Home in Butler, Missouri
Nightstand — Home, Sweet Home in Butler, Missouri
Dresser — Purchased at auction, stained to match other set
Nightstand — Purchased at auction, stained to match other set
Steamer Dressing Trunk — Estate sale
Pressed Tin — Out of a building moved to Frontier Village
Tie Pillows — Made by Noel's mother
KITCHEN
Island — Commercial table wrapped in reclaimed barn wood and old pressed tin from Appleton City, Missouri.
Green Wall — "Fish scale" pressed tin bought from Keeper's Antique Mall in Harrisonville, Missouri
Hutch — Craigslist
Various Decor — Antique stores and estate sales, or from Noel's grandmother
Pressed Tin Between Kitchen Cabinets — Frontier Village swap meet
Cabinets — Building material auction
Countertops — Restaurant tables cut to fit the curve of the wall, which is an old grain bin
Bead Board — Building material auction
Dining Set — Estate auction
Fruit Bowl Centerpieces — Made by Chris
Bar Stools — Rescued from dumpster by Noel's son
UPSTAIRS BATHROOM
Clawfoot Tub — Auction
Pressed Tin — Dumpster find
Shower Curtain — Made by Noel's mom from pieces of needlework made by Noel's great-grandmother, grandmother, and her mother
HANNAH'S BEDROOM (DARK BLUE)
Bed Set — Antique set from Noel's parents
Dresser — Antique set from Noel's parents
Bedding — Amazon
Pictures — Antique stores and estate sales
DOWNSTAIRS BATHROOM
Bathroom Vanity — Coca Cola Cooler found in a barn
Sink Top — Made by Noel and Chris
Sink — Rescued from dumpster
Car Bumper — Dumpster
Signs — Dumpster
Gas Cans — Dumpster
Maps — Collected by Noel's grandmother from trips they took
Mirror — Made by Chris from things found at auctions
Lockers — Hand-me-down from Chris's father's garage
License Plates — Collected from Craigslist, Noel's grandmother, auctions, and antique stores
Towel Rack — Made by Chris
Toilet Paper Holder — Made by Noel's son