Great Jones Just Dropped Their Most Fun (and Stylish!) Collaboration Yet — Get It Before It's Gone
We independently select these products—if you buy from one of our links, we may earn a commission. All prices were accurate at the time of publishing.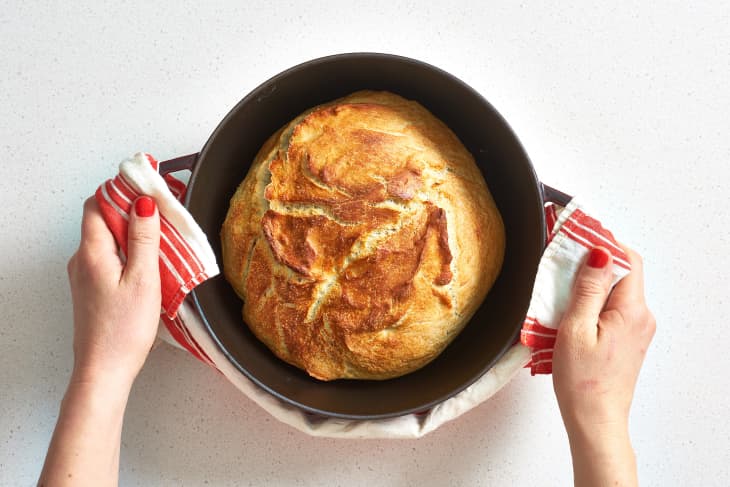 This isn't the first time we've swooned over a Dutch oven. It's not even our first time feeling swept off our feet by a Dutch oven from Great Jones. And it won't be the last time. Designing beautiful cookware is an art style of its own, so when you put an actual painting on top of one of those pieces, you know you're making something special — and that's just what Great Jones did. One of our editors' favorite sources of colorful kitchen tools, the brand released two new patterns for their Dutchess and Dutch Baby ovens.
Follow Topics for more like this
Follow for more stories like this
The artwork comes from Flamingo Estate, which is all about bringing fresh aromas from the garden into soaps, olive oils, candles, and other home goodies. The art is applied to the cooking vessels by hand, which makes each one special, and they're only available in limited quantities. The last time Great Jones had an exclusive artist collaboration (for Lisa Says Gah), the pieces sold out in less than a week, so grab one while you can.
The full-size oval Dutch oven, called The Dutchess, has a 6.75-quart capacity and is available in Great Jones' fun-loving pink Taffy color. The hand-printed design on it — a simple-yet-chic bunch of bright red tomatoes — is a reminder of the delicious bounties that spring and summer provide, which makes this collaboration perfect for this time of year.
The smaller, round Dutch oven, called Dutch Baby, shows off the same gorgeous tomatoes on a sunny yellow Mustard background. Both kitchen essentials are made from enameled cast iron and are safe to use on every kind of stovetop, as well as inside the oven. The Dutchess can hold an entire roast chicken, so it really shines during holiday celebrations, big dinner parties, and any occasion when you want to cook a large main dish. Because of its round shape, the Dutch Baby is your go-to choice for baking sourdough bread and making hearty stews and flavorful rice dishes. And with vibrant artwork on the outside, both of these Dutch ovens make stunning centerpieces on your dining table.
Whether you want to add a show-stopping number to your cookware collection or you've just been looking for the right opportunity to bring Great Jones' cheerful style into your home, these Dutch ovens are a delightful pick. They're hardworking tools that brighten up your kitchen, and they also happen to make excellent Mother's Day gifts — grab one while you can!