My Greek Grandfather's Trick for an Always Clean Garage
We independently select these products—if you buy from one of our links, we may earn a commission. All prices were accurate at the time of publishing.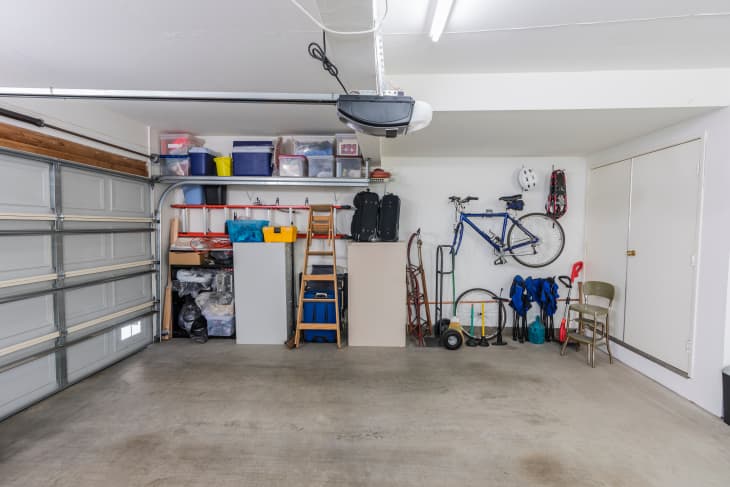 When I drive by open garages in my neighborhood, I'm convinced I can tell how clean or messy the inside of a house is, too — not that I'm judging, because my four sons under seven have their own form of garage chaos. But the garage is one of the most overlooked areas, gathering grass clippings and leaves, stray water bottle lids, and baseballs around the corners. My grandfather, born in Greece and immigrated to the U.S. as a young man before being drafted into the U.S. Army, had the cleanest garage. Here's his trick.
Follow Topics for more like this
Follow for more stories like this
I used to stop by his house in the early evenings as a young teacher on my way home from work. We'd have a cup of tea and play some cards. When I'd pull out of the driveway, I'd see him grab his old-fashioned broom, and start sweeping. He went around the perimeter of the garage first, cleaning behind anything that could be moved, until he was in his late 80s. He didn't skimp on corners, drawing on his military background to take immense pride in his work. Before long, a pile of leaves and garage junk had gathered in the middle, and he'd sweep it outside. But he didn't stop there. I'd often find him sweeping halfway down his half-mile driveway, ensuring the surrounding concrete was clear too. That's because whatever you sweep out comes right back in with a brisk wind.
Then, on summer evenings and even into fall or spring, you'd find him with a hose removing the rest of the debris around the outside of the driveway, which made for even less of a sweeping job the next night. Finally, he'd pull out his old garage sale folding lawn chair, and admire his work. He did this entire routine each evening from the time I knew him until when he passed in my 30s, close to age 90.
If we were on vacation, he'd do the same thing to the porch. If he was hanging on my front stoop, he'd do the same thing as well. It wasn't hard work, but somewhat tedious, and made much better with someone to have a conversation with nearby. While my husband and I are quick to reach for the leaf blower to clear out the garage, something about his meticulous practice showed he'd earned each inch of the house he'd built, and that he'd maintain it with the same care.
Teaching my own sons his trick to the cleanest garage is less about caring if there's a random grasshopper in the corner and more about intentionally caring for your stuff. While I don't have the bandwidth to enforce them reaching every single corner at their young ages, I know the habit of simply trying to keep a space clean, down to the edges, will prove to be a worthy lifelong lesson. So, sometimes my sons "sweep" the garage.
When I peel out of my garage in my minivan, dodging skateboards and last night's football practice jerseys, I shake my head at the hot mess of a disaster that it is. And later that night, when the last of the four kids have been tucked in, sometimes I get a broom and start to sweep. I think about what my grandparents built for me, and how the home my husband and I have, and our life with our four sons, is because of my grandfather, his legacy, and the work he built his life upon, including sweeping that garage every single night.