This $10 Find Makes Cleaning My Tub So Much Less of a Chore (and Gets It Sparkling Clean!)
We independently select these products—if you buy from one of our links, we may earn a commission. All prices were accurate at the time of publishing.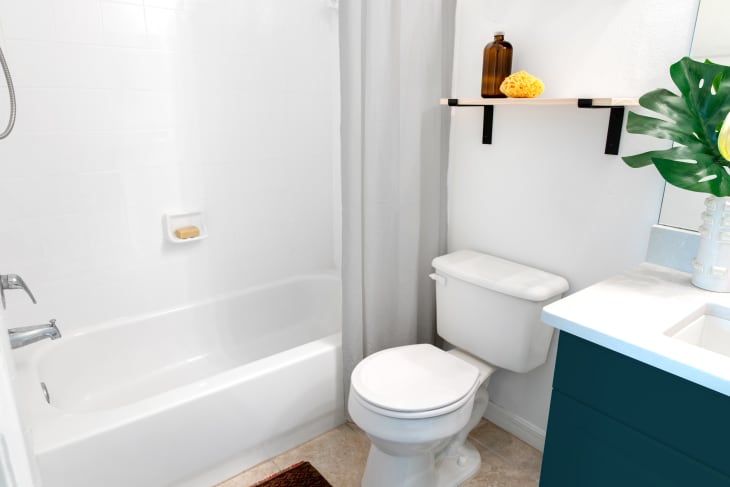 Like anywhere else in the house that gets a ton of traffic, the bathtub is one of those areas that requires frequent and thorough cleaning. Whether you prefer quick showers or long, luxurious baths, there's just no way of getting around the necessity to rid your tub of that stubborn soap scum that builds up throughout the week. It's a tough task, but somebody's got to do it. Recently, I learned about a powdered cleaning product: Tub Scrub from the Green Laundress, an eco-friendly brand that could supposedly get things spotless with very little effort on my part. Hoping that this tub cleaner wouldn't be an energy drain, I decided to give it a try. And it turned out to be a game-changer in so many ways.
Follow Topics for more like this
Follow for more stories like this
The first thing I noticed when I opened the Tub Scrub jar was the powder's light hint of citrus, which smelled both pleasant and clean. According to the label, the scrub is a blend of natural, non-toxic ingredients, including baking soda, castile soap, distilled water, cream of tartar, citric acid, and essential oils. To clean my bathtub, I used two spoonfuls of the gritty powder and just enough water to wet a scrubbing sponge. Once the water and powder mixed, they formed a soapy lather that I scrubbed around the base, sides, and top of my tub. Next, I went to work on the persistent stain that always appears around the drain after a few days' worth of showering. It usually takes a few passes to get rid of it, but the Tub Scrub did the job faster and better than other cleaners I've tried. In fact, in a matter of minutes, my bathtub's sparkling shine was completely restored.
Despite its name, the Green Laundress Tub Scrub is a multipurpose cleaner that can also be used on sinks, toilets, showers, faucets, ovens, and even dishes. You just have to adjust the amount of powder you use depending on what you're cleaning. I did a single scoop for my sink, but it turned out to be a lot for the area I was cleaning, so I applied the excess to the counter space around it. It left no residue, and my sink returned to the same bright white it was when I moved into the apartment a few months ago. I'd assumed my faucet had a dull finish because it never really shined after cleaning it, but it turns out it just wasn't getting a deep enough clean — now it's gleaming.
Between my bathtub and sink, the Green Laundress Tub Scrub has made cleaning seriously easy and unlocked the potential of just how spick-and-span my bathroom can be. Now I can't wait to try it out on those stained teacups … that crusty barbecue grill … that sooty patch of tile in front of my fireplace … you get the idea.

Buy: The Green Laundress Tub Scrub, $10