Gregory's Refreshed & Refreshing Home Office
We
independently
select these products—if you buy from one of our links, we may earn a commission. All prices were accurate at the time of publishing.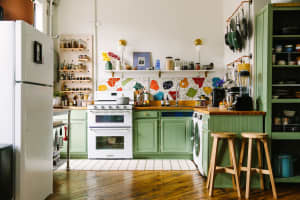 Can't-Miss House Tours Straight to Your Inbox
Keep up with our latest house tours each weekday with our House Tour of the Day newsletter
Name: Gregory Han

Location: Silver Lake, California

Size: Home office measuring 60″ width x 106″ length

Years lived in: 4+
It's been awhile since we last had a tech tour, so I thought I'd offer my own newly updated home office today. Let me begin describing what my home office first looked like before the redo: the small narrow sun room was filled with a hodge podge of vintage, IKEA, and miscellaneous items. It was where things went to stay (and often die) when we didn't have anywhere else to put them, and I alway felt like it was the most neglected room, despite the fact I spend the most time in it of all the rooms in our 637 sq. ft. space. It was definitely time for something new…
I worked closely with a friend/contact at IKEA Burbank, noting I had a limited budget and an even more limited amount of space to work with. We walked through the showroom and I was able to pick out some major pieces, thematically creating an outdoors-inside aesthetic, while relying on my friend Peggy for advice how to optimize storage within the desk, shelving and cabinets. With such a small room, I decided to reorient the whole layout with a shallow depth desk running along the length, ending with two tall bookshelves, while using panel shades to regulate ambient lighting.
Three motivating factors shaped the redesign: 1) more storage for books and tech peripherals, 2) an increase in lighting options at night and sunlight regulation in the day, 3) improved wire and cable management.
With the redesign, the office now uses vertical space, offers more compartmentalized storage, and feels a lot more expansive because of the new layout. And I think I've personalized the room with small touches that make working here a complete joy (especially now all the wires and cables are hidden away).
Unplggd Tech Tour Survey:
My style: Pop graphic minimal. My professional background is in graphic design, with experience primarily in the video game and toy industries, so I have a strong affinity for bright and playful colours. That being said, one day I'd like to decorate a new apartment/home in a wildly divergent ornate and darker style. But for this room, with its brilliant natural lighting and small dimensions, a lighter palette was optimal.
Inspiration: I approached redecorating/reorganizing my home office by imagining it was a space inside a seafaring craft. Boat interior design is all about space efficiency, and although I don't have a steering wheel in the room, the new space is optimized for my work flow with a myriad of carefully planned storage options.
Favorite Element: It's a tossup between the wide range of storage items and the nearly perplexing amount of lighting options now available. Everything now has a place to be stored away in, which is amazing considering how much junk was once stored away haphazardly before, all labeled carefully and thematically. The lighting options include LED lighting situated inside the drawers (automatic battery powered LED strips from IKEA), two desk lamps, a centerpiece overhead lamp that was spray painted and hardwired for ceiling hanging and bookshelf lights overhead.
Here's the jellyfish tangle of cables and wires that once hid behind my desk.
Biggest Challenge: The small layout alongside the amount of natural light that pours inside this room made it a challenge to optimize storage while also providing a comfortable spot to work in for hours on end (thus is the life of a managing editor). Previously, my small hodge podge desk setup was situated at the far end of the room, against the wall; the location gave me a sense of narrow seclusion, and not in a good way. Now, I've situated the desk where the width of the room fools the eye into perceiving the space as far wider, alongside using the view out the window to expand the horizon. Instead of feeling trapped, I now enjoy as expansive view from the hills of Silver Lake out to Hollywood and beyond.
What Friends Say: I haven't shown it to anyone except a single friend visiting from NYC. It's been a top secret project until now!
Biggest Embarrassment: The cheapo KMart roller shades behind the lovely window panels. I need to replace these with better quality roller shades. Also, the room needs some additional touchups in the paint department.
Proudest DIY: All the wire management. Using an IKEA set of cable harnesses, Velcro, nail-in cable guides and a Galant cable management box, I worked hard at hiding almost all the wires and cables from view. Considering the back of my desk used to look like above, it was quite an accomplishment.
Since a great deal of the room is white, I wanted to add splashes of colour, especially on the desk. A visit to the Paper Source in Pasadena resulted in finding some faux bois patterned decorative sheets which I cut and joined together to sit underneath a clear desk pad. A small touch, but one that I think warms up what could be an overly minimal space.
I'm also quite happy how the spray painted BRASA overhead light came out. It's supposed to graphically symbolize the Southern Cali sun that pours inside this room each sunset.
Biggest Indulgence: Framing some vintage manuscripts I purchased years ago from the Glendale Library art and poster sale. They were intended to hang up above my desk, but although they fit, the dimensions overwhelmed the space above and looked awkward. So now they sit at my feet. Not wasted money, but not ideal either.
Best advice: Live within a space for awhile before making any major purchases, especially when organizing and decorating a smaller space where each inch is a valuable commodity. It's through my initial mistakes that I learned how to efficiently utilize the small home office space, and now I'm very pleased with the design and utility of the space.
Home Tech Resources:
Most of the major furniture pieces are from IKEA:

BESTA BURS Desk in white

GALANT (cable management)

ERIK office drawers

BRASA 23 5/8″ overhead light

2 BESTA Bookshelves

DIODER LED lights inside the drawers

LYKTA lamp

HAMPEN Rugs

ANNO LJUV window panels

KVARTAL window rail
Tord Boontje Garland light
Lovely Design card holder
Bulletin board from Target (spray painted)
Droog Strap
Steelcase Leap Chair
Apple Unibody MacBook Pro 15″

Rain Design mStand

Dell UltraSharp 2407WFP

Audio Technica Quiet Point Headphones

NetGear Skype Handset

Seagate FreeAgent Xtreme 1 TB

Wacom Bamboo Fun Tablet
NOTE: I've since moved and had to edit/reorganize a new home office into a much smaller closet space. The new home office is much different in size and design: The Black Hole Closet Home Office
Special thanks to Peggy Kovacic of IKEA for all her advice and help!