Laundry Detergent Comes in SHEETS Now — And They're Ridiculously Amazing
We
independently
select these products—if you buy from one of our links, we may earn a commission. All prices were accurate at the time of publishing.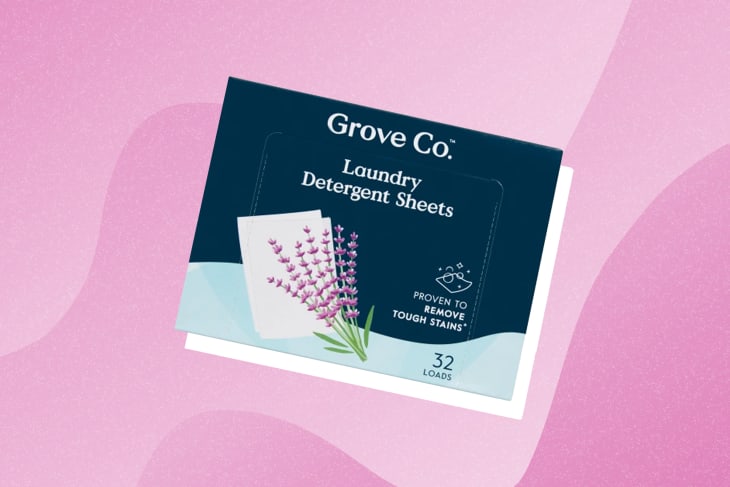 It's not that I hate measuring detergent when washing my clothes, but after years of doing so, I've admittedly gotten much lazier during the process. Who knows how much detergent I've wasted from over-pouring? Sometimes, I even do away with the measuring cup and pour directly from the bottle into the machine — oops! But I recently heard about a remedy for this issue: laundry detergent sheets (!!!), a brand-new concept to me. Where had they been all my life? I got the chance to try them out for myself when the cleaning brand Grove Collaborative launched their new Lavender Blossom Laundry Detergent Sheets, and my laundry days will never be the same again — in the best way possible.
The Grove Co. detergent sheets are made of plant-based, pre-measured detergent, dissolve quickly in water, and don't include any harsh chemicals that could ruin your clothes. Like the Grove Co. hand soap sheets, they must also be stored away from water or moisture to avoid activating the ingredients, but that worry was eliminated as long as they were stored on the shelf with the rest of my laundry care products. All I did was add a single sheet to the washer drum before dropping in my clothes. (For large and heavily soiled loads, I'd add in two sheets.) At first, the whole thing sounded too good to be true. Was I to believe this sheet — that's nearly the same size as a dryer sheet — could clean an entire load of laundry? I thought for sure that the convenience factor would make the outcome less effective, but I was quickly proven wrong when my first load of clothes came out just as clean as when I use liquid detergent or pods!
But the icing on the cake was the scent of detergent sheets. All of my clothes were left with the fresh lavender blossom fragrance, rather than smelling as if they'd just been tossed in water. My second load, which was significantly larger, required two detergent sheets and yielded the same amazing results. I was truly blown away and even decided to leave some behind for my parents to try too.
I'm a sucker for convenience, but I love when convenient products don't skimp out on quality. Grove Collaborative's Laundry Detergent Sheets will be a new staple in my laundry cycles, especially on days when I just don't feel like measuring liquid detergent to wash clothes. For $12.95, you get enough sheets for up to 32 washes, whether using them in a machine or washing by hand. Out of all the forms of laundry detergent I've ever used, the sheets are by far the most effective with the least amount of effort. With those results, I'm absolutely a new fan!