Haley & Ted's Bright White Cottage
We independently select these products—if you buy from one of our links, we may earn a commission. All prices were accurate at the time of publishing.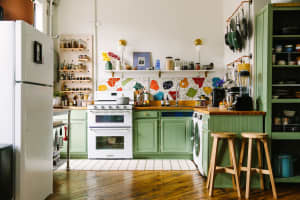 Can't-Miss House Tours Straight to Your Inbox
Keep up with our latest house tours each weekday with our House Tour of the Day newsletter
Name: Haley and Ted, + their dog Rupert
Location: Summerland, California (a little coastal town just a few miles south of Santa Barbara)
Size: 950 square feet
Years lived in: About 1 year — rent
Haley and Ted live in one of those idyllic, adorable bright cottages with a traditional porch that face the coast of a sleepy beach town. Nestled in between some of the best wineries and vintage shops, their three bedroom home presents a wonderful palette of textiles and colors. It's a perfect mix of country and surfside living.
We caught a glimpse of Haley and Ted's house in the recent Small Cool Contest, where they gave us a look at their cozy dwelling. With the spare rooms turned into his and hers offices, they are both able to work from home and have their own personally styled space. I loved how well they integrated various styles of furniture into the overall design. Taking full advantage of a spacious kitchen, they've set up their formal dining space in a central spot.
The smell of the salt air and the big front lawn offer a great sense of home. I love that they are in a small town, where you can walk to everything and the beach is literally across the street — truly a welcoming abode in an ideal location!
Apartment Therapy Survey:
Our Style: We like a cozy, beachy feel that looks eclectic but clean.
Inspiration: William Laman, or any Nancy Meyers movie.
Favorite Element: I would have to say the floors, because I saw what the house looked like before; trust me, it was awful! There was wall to wall gray polyester carpet and a landlord that had no intention of changing it, so I carefully cut the carpet out of each room.
Biggest Challenge: It would have to be the floors. They had to be done asap when we moved in. If you saw, you'd know what I mean; it was awful! We rented the house sight unseen and when we did the first walk through, the house was dark and drab. I was so depressed, there was wall to wall gray polyester carpet throughout, so we lifted the rug in the two front rooms and found that there were hard wood floors underneath! We carefully cut the carpet out of each room and sold it on craigslist as remnants. Then, after pulling up the rug pad, we had a bit of bad luck, there was really old linoleum on about half the floors in the front, and it was REALLY stuck on there. We were in too deep to stop, so I got some advice from my father and realized we'd have to pull the old flooring up with a crowbar, it was a HUGE undertaking! We finally primed and painted the floors with white porch paint (that was the easy part) and scored some really nice new sea grass, which we laid ourselves.
What Friends Say: This look is not for everyone, and people have not been afraid to tell us, but for the most part, they seem to really like the space.
Biggest Embarrassment: Since we laid it ourselves, the sea grass is far from perfect. In a couple of areas, it goes from one direction to another, and in certain weather, it will sometimes bubble up.
Proudest DIY: The fireplace or the floors.
Biggest Indulgence: The fireplace was a major splurge for me because I sold our living room couch in order to free up enough money to buy it. I then had to find a couch to take the old one's place!
Best Advice: Do not attempt plumbing or electrical yourself.
Dream Sources: Ralph Lauren in Beverly Hills, The Rug Company, Missoni Home, Williams-Sonoma, Calypso Home, Pierre Lafond, William Laman (Montecito Home Stores).
• Kitchen – Frazee: Endurable Eggshell
• Living room, Bedroom and Ted's Office – Glidden: Snowberry White
• Haley's office – Behr: Southern Beauty
• Bathroom – Frazee: Airland Blue

• Mosaic Pillows: Play House
• Wicker Furniture: Craigslist.com
• White Ceramic Monkey: Plantation in Venice
• Curtains: Target
• Dog Bowl: Amazon
• Dog Bed: etsy shop Murphy and Gert
• Rubber Duck Boots: etsy
• Throw pillows: Calypso Home
• Rug: Williams-Sonoma Home
• Blanket: Vintage Store in Carpenteria
• Coffee Table and End Tables: South Cone Trading Company
• White Cane Chairs: Garage Sale
• White upholstered chair, eams chair: Rose Bowl Flea Market
• Rattan table: Summerland Antique Mart
• DIY Chandelier, Summerland Antique Mart.
• Shells: A Shop on Santa Barbara Pier
• Curtains and hardware: Ikea
• Monkey picture: World Market
• "Cucina" plaque: Anthropologie
• Measuring Cups: Ross
• Bamboo table and chairs: Craigslist.com
• DIY Headboard, Target. Fabric: Williams-Sonoma Home
• Bedside Tables: HD Buttercup
• Chair: Craigslist
• Red Box: Clarins Free Gift with Purchase
• Lucite Butterfly: LA Gift Show
• Butterfly specimens: Venice Boardwalk
• Butterfly print: etsy
• Vintage Glasses: Santa Monica Flea Market
• Area rug: Summerland Antique Mart
• Bedding: Ikea
• Vintage Print: Flea Market
• Robe: Planet Blue, made by Missoni
• Towels: Tuesday Morning
• Bath Mat: Target
• Desk: Ikea
• Desk Chair: Bed Bath and Beyond
• Throw Blanket: Planet Blue, made by Kerry Cassil
• Chairs: Restaurant Supply
• White Camel: Ross
• Calendar: One Kings Lane, made by Jack and Lulu
• Big Stick, and Nudes, My Own Creations
• Candles: Market Street Candles

• Blanket: Missoni
• Plaid Throw Pillow: Play House
• Pony Hair Throw Pillows: Joss and Main http://www.jossandmain.com/store/
• Desk: Ikea
• Scotch Bottle: Etsy Shop OneHalfDozen
• Cigar Box and Bar-Ware: Etsy Shop
• Wine Barrel: Grandparent's Restaurant
• HOUSE TOUR ARCHIVE Check out past house tours here
• Interested in sharing your home with Apartment Therapy? Contact the editors through our House Tour Submission Form.
• Are you a designer/architect/decorator interested in sharing a residential project with Apartment Therapy readers? Contact the editors through our Professional Submission Form.