This Simple Hack Makes Watering Your Hanging Plants a Breeze
We independently select these products—if you buy from one of our links, we may earn a commission. All prices were accurate at the time of publishing.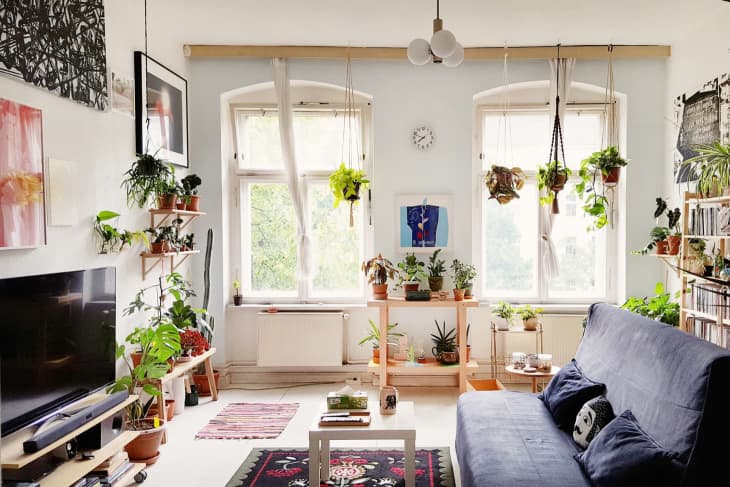 There are lots of advantages to hanging your plants. For one, you can save floor space, and squeeze extra greenery into a small square footage; you can also keep plants out of reach of curious pets or kids. But besides all that, hanging plants just have a knack for making a home feel effortlessly cool.
Follow Topics for more like this
Follow for more stories like this
The way leaves can cascade down beyond the edges of a basket or vines can slowly climb across a wall creates a carefree attitude in any space, as though the plant helps everyone around it loosen up. But the reality for some people who care for hanging greenery is often not as easy as it seems. Depending on high ceilings, short legs, or nowhere-to-be-found stools, watering these pots can turn from a quick chore into a precarious endeavor — especially if climbing a nearby object to get to the soil is involved.
That's why this TikTok idea from Melissa Pham of @Thrift.More.Waste.Less is so worthwhile for plant parents. She created a simple pulley system for her silver satin pothos, making it so keeping those roots hydrated is a cinch. 
"I wanted to add depth to my plant area, but I hated having to get out the step stool every 'Water Wednesday,'" Pham says. "One day, I found some cute hooks and realized I could use them more like an anchor to hold a pulley rope. This system now allows me to control the height of my hanging plants and water them easily!"
To start, Pham placed her plant in a self-watering pot that has an attached draining bin, which keeps water off the floor, and then arranged it inside a macrame holder. She used a hook to suspend the plant from the ceiling, and attached the holder to an eleven-food cord. The cord has two loops fastened several inches apart that can adjust the plant's height from higher on the ceiling to closer to the floor. A second hook fastened upside down on the wall locks the plant in place using those two rope loops. So, with one straightforward motion, the plant can be raised or lowered in no time. 
"Make sure that you properly install the ceiling driller in a secure location, and be sure to choose plants that are medium-to-small in pot size so that they don't become too heavy," she recommends.
Pham was able to find most of these items either at Goodwill or the Dollar Store, making it an inexpensive project that can likely be accomplished in a day. And since stools and acrobatic moves will no longer be necessary once you follow her lead, you and your plant can actually be as laid-back as it seems.